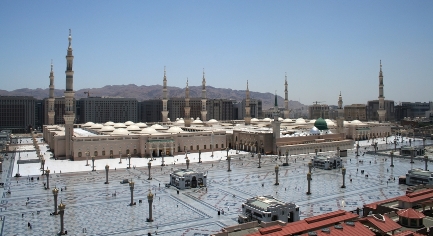 Are you relocating to KSA, or plan on shipping to Saudi Arabia from the USA? Depending on the type of freight and your location, chances are that you'll be well suited shipping a container to Saudi Arabia or using ocean freight.
Selecting an experienced company to ship your goods is the first important step. We've been providing international shipping services to Saudi Arabia from the USA for over 38 years.
Whether you are moving to Saudi Arabia or shipping a vehicle to Dammam, our container shipping service and air freight division offer everything you need for a stress free shipment.
What Are You Shipping?
As a fully licensed, bonded and insured international shipping company, we can ship almost anything.
Household Goods/Furniture
Vehicles
Motorhomes and RVs
Equipment
Cargo and Freight
Shipping to Saudi Arabia: How it Works
Regardless of what you are looking to ship or where you're located here in the USA, we can orchestrate the entire process, from pickup to arrival.
As part of our shipping service to Saudi Arabia, we offer a domestic pickup services here in the US.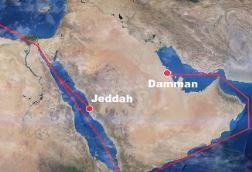 When shipping with a container, you'll have the options to deliver goods to one of our 5 warehouses, load yourself via drop and pull or use a live load.
The only exception to this is when shipping a vehicle, as we do all of our loading at our company locations.
US customs documentation and port clearance, tracking and loading are all included in our service.
Departure Ports
Los Angeles, CA
Houston, TX
Savannah, GA
New York, NY
New Jersey
Miami, FL
Container Ports in Saudi Arabia
**If you are shipping a container to Saudi Arabia and would like to discuss additional options for departures, contact one of our export specialists.

In addition to container shipping, which is the most common method for moving household goods and shipping vehicles to Jeddah and Dammam, for those of you who require a faster turnaround, we also offer air freight services.
What You Need to Ship to Saudi Arabia
There are usually a lot of common questions to be asked by people who are shipping for the first time. We hope you find this information useful.
How long does it take? The time frame for shipping containers to Saudi Arabia can vary, depending on the service you want, there are a lot of variables.
The approximate sail times for cargo being shipped via ocean freight is 5-7 weeks. This is an estimated time frame on the water and applies to other destinations in the region like the U.A.E.
Calculating the cost of a shipment can't be done without detailed information about the vehicle or household goods you're shipping and the way it's moved.
However, our initial quote you will receive is usually based on a port to port rate, that includes all US origin charges, and excludes all destination fees upon arrival. You should discuss these with your sales person when booking your shipment.
Import Regulations for Saudi Arabia
The KSA import regulations when shipping from the US to Saudi Arabia, will vary depending on the cargo or commodity that is delivered.
For instance, if you want to ship a vehicle, it MUST be no more than 5 years old. Furthermore, this time frame is based off the manufacturing date and not the sales date.
The exact documentation required will also vary depending on which port in the USA your goods leave from.
If you are a legal resident of a GCC member nation, to import your container from the USA to either Jeddah or Dammam, carriers require a copy of your residents permit.
If you need more information or want to get a shipping rate to Saudi Arabia from the U.S, please fill out our online quote form or give us a call today.
Written by Damien Shields