Are you relocating to KSA, or plan on shipping to Saudi Arabia from the USA? Depending on the type of freight and your location, chances are that you'll be well suited shipping a container to Saudi Arabia or using ocean freight.
Selecting an experienced company to ship your goods is the first important step. We've been providing international shipping services to Saudi Arabia from the USA for over 40 years. Whether you are moving to Saudi Arabia or shipping a vehicle to Dammam, our container shipping service and air freight division offer everything you need for a stress free shipment.
Read our guide on how to ship to Saudi Arabia from USA below and start your shipment today.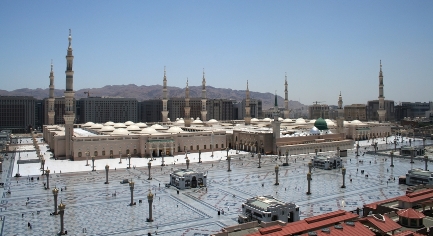 How to Ship to Saudi Arabia
When shipping to Saudi Arabia, you want to start with all of the details particular to your shipment. A few of the things you should have in mind are the type of good, origin, and destination. With this info we can begin to work with you on completing your shipment.
What Are You Shipping to Saudi Arabia?
As a fully licensed, bonded and insured international shipping company, we can ship almost anything to KSA.
Household Goods/Furniture
Vehicles
Motorhomes and RVs
Equipment
Cargo and Freight
What are the Origin and Destination in Saudi Arabia?
Regardless of what you are looking to ship or where you're located here in the USA, we can orchestrate the entire process, from pickup to arrival.
As part of our shipping service to Saudi Arabia, we offer a domestic pickup services here in the US.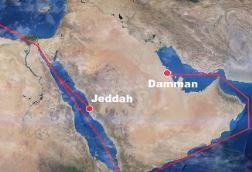 When shipping with a container, you'll have the options to deliver goods to one of our 5 warehouses, load yourself via drop and pull or use a live load.
The only exception to this is when shipping a vehicle, as we do all of our loading at our company locations.
US customs documentation and port clearance, tracking and loading are all included in our service.
Departure Ports
Los Angeles, CA
Houston, TX
Savannah, GA
New York, NY
New Jersey
Miami, FL
Container Ports in Saudi Arabia
**If you are shipping a container to Saudi Arabia and would like to discuss additional options for departures, contact one of our export specialists.

In addition to container shipping, which is the most common method for moving household goods and shipping vehicles to Jeddah and Dammam, for those of you who require a faster turnaround, we also offer air freight services.
What You Need to Ship to Saudi Arabia
There are usually a lot of common questions to be asked by people who are shipping to Saudi Arabia for the first time. We hope you find this information useful.
How Much Does Shipping to Saudi Arabia Cost?
Calculating the cost of a shipment to Saudi Arabia needs detailed information about the vehicle or household goods for accuracy. Many different factors affect the price such as origin. For example shipping to Saudi Arabia from LA has a different price than NY with everything else the same. Since it can vary, our representatives create custom quotes for each individual shipment.
Fill out our Online Quote Form for your cost to ship to Saudi Arabia
How Long Does Shipping to Saudi Arabia Take?
How long does it take? The time frame for shipping containers to Saudi Arabia can vary, depending on the service you want, there are a lot of variables. These factors are the same as the ones that affect the cost of the shipment.
The approximate sail times for cargo being shipped via ocean freight is 5-7 weeks. This is an estimated time frame on the water and applies to other destinations in the region like the U.A.E.
Container Shipping to Saudi Arabia
Our main service for shipping to KSA is through container shipments. With container shipping to Saudi Arabia, your goods are loaded into protected containers for ocean transport.
We offer both consolidated and exclusive container services which each have their own benefits.
Consolidated Container
With consolidated container shipping to KSA, a container loads with goods from multiple people. In regards to cars, 2-4 are loaded depending on size. For household goods, the containers need loads of varying sizes until it's full. This type of shipment is the most popular as it offers the best value with the protection of a container. The tradeoff is the time to ship takes a bit longer as the container has to be filled by multiple customers.
Exclusive Container
We also offer exclusive use of 20 and 40 foot containers to KSA. This service's benefit is there is no wait time to ship once we have your goods and documentation. When using this service the overall shipping time will be faster. The tradeoff is that the cost is higher as they are not split with other people shipping.
Import Regulations for Saudi Arabia
The KSA import regulations when shipping from the US to Saudi Arabia, will vary depending on the cargo or commodity that is delivered.
For instance, if you want to ship a vehicle, it MUST be no more than 5 years old. Furthermore, this time frame is based off the manufacturing date and not the sales date. There are even exemptions to this though. In this case, if you are a returning student or expat you can get a import approval from the government to allow it into the country.
The exact documentation required will also vary depending on which port in the USA your goods leave from.
If you are a legal resident of a GCC member nation, to import your container from the USA to either Jeddah or Dammam, carriers require a copy of your residents permit.
If you need more information or want to get a shipping rate to Saudi Arabia from the U.S, please fill out our online quote form or give us a call today.
More KSA Shipping Info
Start your shipment to Saudi Arabia by filling out our Online Quote Form or calling in at 562-408-6677.
SCL Shipping to Saudi Arabia Reviews