Shipping to New Zealand from the US has grown immensely in the 21st century. New Zealand has a lot to offer travelers as well as those looking to move to for a longer period time. Many of its larger cities continually rank among the top cities to live in the world in terms of livability. For this reason, it's a popular destination for expatriation like its larger cousin to the West.
Although it is known for its amazing scenery and wilderness, the majority of international relocations and shipments to New Zealand are directed towards the major urban areas. Roughly 90% of the current population can be found in, or close to, the bigger cities and their nearby suburban areas.
If you are moving to New Zealand, you are going to want a vehicle to have while there. You can have your car or truck transported to New Zealand along with your home move from the US. We have shipped tons of vehicles over the years and we can help you with the customs documentation and any questions.
Read our info on how to ship to New Zealand from the USA below and start your international shipment with SCL.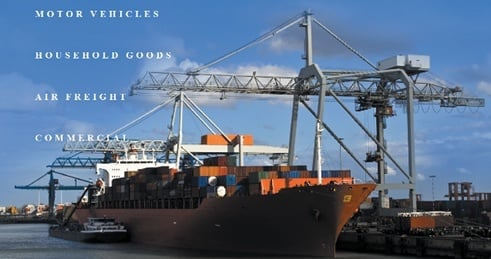 New Zealand International Shipments
New Zealand is about the size of Colorado and due to its remoteness it relies heavily on international trade. For this reason, it is very accessible to ocean liners and cargo vessels shipping goods into the country.
When shipping to New Zealand, Auckland is the port of choice. Auckland is New Zealand's largest city with a population of around 1.3 million. It is located in the northern part of the country and it is the main shipping port into New Zealand. We also offer international shipping services to Christchurch and Wellington which are the next biggest cities. A large number of these relocations and international shipments will be to one of these three destinations.
However, if you need to get your effects to a smaller town in the south or ship your motorcycle to New Plymouth, we can make arrangements for delivery. Below is a list of the main cities in New Zealand.
| | | |
| --- | --- | --- |
| Auckland | Christchurch | North Shore |
| Wellington | Dunedin | Tauranga |
| Hastings | Napier | New Plymouth |
Shipping Your Goods from the US to NZ
If you are going to be shipping cargo from the US, there are five different locations that we can ship from. Which one you ship from will influence the overall costs to ship your goods to New Zealand. Our five different locations in the U.S are Los Angeles, Houston, Savannah, Miami and New York.
Generally, for shipments to New Zealand our freighters leave from the port of Long Beach. It is about 6,529 miles from LA to Auckland and it is the closest port of the five. The exact costs involved with a shipment depend on the factors specific to your shipment.
Container Shipping to New Zealand
We offer two different types of container shipping to New Zealand: Consolidated and Exclusive.
Consolidated container shipping means that the goods you ship are grouped together with other people shipping to the same place. This is the best value as you only pay for the amount of space you use. On the other hand, you can also ship an exclusive container which only has your goods. The benefit of this is it skips the consolidation period meaning you get your items to your door more quickly.
How Much Does Shipping to New Zealand Cost?
The cost for shipping to New Zealand from the USA changes based on specific details. Some factors that change the price are volume, origin/destination, and service selected. For example, a container to New Zealand from LA would have a different price than to NY. With this in mind, our representatives create custom quotes for all shipments.
To get a custom quote for your move, fill out our Online Quote Form today!
How Long Does Shipping to New Zealand Take?
There are also plenty of variables that affect the time your shipment takes. Shipping service plays a big role because a consolidation will take more time than an exclusive container. With exclusive containers, we can ship as soon as we have all your items. Shared containers need the time to consolidate which is variable in nature. In most cases, sail times, meaning time on the water from the West Coast take about 3-4 weeks. From the East Coast it is usually 4-5 weeks to all base ports. Generally from door to door, shipping to New Zealand takes about 7-9 weeks, but there are shipments shorter or longer.
We do everything to meet estimates but these should serve as a guide and not exact times.
More Info for Shipping to New Zealand
Fun New Zealand Facts
88% of the total population lives in urban New Zealand
The capital, Wellington, is almost a quarter the size of Auckland
The country has 16 regions and 1 territory
New Zealand's largest imports are machinery, vehicles and equipment
Fill out our Online Quote Form and start your shipment to New Zealand today!
For more information regarding international shipping feel free to contact our representatives by phone.
USA: 562-408-6677 // Toll Free: 800-599-0190
SCL International New Zealand Shipper Reviews