Those considering shipping a motorcycle to Europe from the USA have plenty of options to choose from regarding which type of service they would like and which port of entry to use.
For the past 40 years, we have continued to offer the best rates to all European destinations. As a fully licensed NVOCC, we take out the middle man, and deal directly with the shipping lines.
This allows us to offer better rates while still providing the best quality service to destinations across Europe including the UK, Germany, France, Italy, Turkey and many more.
Common Shipments
Street Bikes
Cruisers
Dirtbikes / Enduro
ATVs
Trikes
What We Offer
RoRo / Container / Air freight
Pickup anywhere in US
24/7 online tracking
Crating(optional)
Licensed with FMC, IATA, DOT
The following information will help you in planning your shipment to Europe and explain the different scenarios and port options.
European Base Ports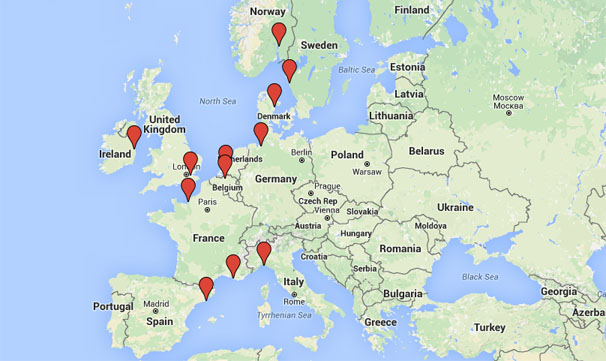 The Western European countries all have direct port access, meaning that customers can import a motorcycle from the USA directly into the country they are moving to or will reside in.
Pertaining to ocean freight, the main base ports listed below offer the best rates and most frequent service.
Main Container Ports in Europe:
West
Rotterdam, Netherlands
Le Havre, France
Bremerhaven, Germany
Antwerp, Belgium
North
Thamesport, UK
Dublin, Ireland
Oslo, Norway
Aarhus, Denmark
Gothenburg, Sweden
Mediterranean
Barcelona, Spain
Genoa, Italy
Marseille, France
However, not everyone that wants to ship their bike or ATV will have direct access to their final destination.
For instance, Hungary, Slovakia and the Czech Republic do not have direct service. Moving your motorcycle to Genoa, Italy would be much cheaper than a direct air freight service. You could then arrange for inland transportation to the final delivery.
Air freight costs are higher than a RoRo or a container service. If time is very important and you can pay a premium, you should consider air freight.

Best Ports When Shipping Motorcycles to Europe
This question really depends on the client's specific requirements and schedule. Three ports that we recommend are Bremerhaven, Germany, Antwerp, Belgium and Rotterdam, Netherlands.
These three ports offer the best rates and weekly sailings.
Remember, the port you choose will also depend on the status of your shipment and the best option for your destination and cost preferences.
Cost to Ship a Motorcycle to Europe
Motorbike shipping rates to Europe start as low as $699 depending on the dimensions, US departure location, and which EU base port is used. The factors vary greatly as every shipment is different. For this reason, our representatives create custom quotes for each one.
To get the cost to ship your motorcycle to Europe, use our Online Form at the top of the page.
*The estimates are for ocean freight only in a shared container and don't include fees, duties, or taxes.
Documentation to Import a Motorcycle to EU
When entering in through any EU base port, if your final destination country is within the EU, you can clear customs at the port of entry.
The documentation is straightforward and will only vary slightly, as some countries require additional documents.
For motorcycles, the most common documents that we need to export a bike are:
Original clear title
Bill of sale (if it has not been owned for more than 6 months)
Valid passport or ID
Power of attorney in some cases, depending on which port you ship from
First, these documents will be used to export your motorcycle and clear US customs. All original documentation is then express mailed to our overseas handling agent.
Our partners will act on your behalf and use this documentation to clear your motorcycle(s) through customs at the arrival port.
Upon completion, we recommend that you save your stamped import docs and keep them secured because they are needed to register your motorcycle.
They are also valuable should you decide to move back to the US and bring your motorbike.
Temporary Shipments for Tours or Leisure
Europe has tons of open roads and landscape changes, which make for great tours and rides. This is where choosing your entry port can save you hundreds of dollars on your ocean freight.
Where your tour or ride will be starting will generally dictate the base port you decide to ship into.
As a temporary import, you will not need to register your bike but you will need to have insurance. All motorcycles must be insured to be legally driven on the roads.
Shipping a Motorcycle to Europe and Back
Your options when shipping a motorbike from the USA will be much better not only in terms of the different services but pricing as well.
When exporting, you can choose from a RoRo, container or air freight service. However, when shipping your motorcycle back from Europe, there are very few shared container services.
Most clients elect to use RoRo when transporting bikes back to the USA as opposed to booking an sole use 20′ container. Air freight, as mentioned, is an option but more expensive.
Converting Your Motorcycle
Your local customs office or embassy will be able to give you the most up to date information for conversions.
There are a few common conversions that will be mandatory if you are importing a motorcycle to Europe permanently and plan on registering and driving legally.
These include:
Odometer conversion from MPH to KPH
Meeting emissions standards
Some countries require exhaust modifications and lighting modifications
*Certain modification may not apply for bikes 25 years or older.
More Motorcycle Information
To start shipping a bike to Europe fill out Online Quote Form or call one of our representatives at 562 408 6677 / 800 599 0190
SCL Motorcycle Shipper to Europe Reviews