Motorcycle Shipping Tips and Preparation Guide
Have you recently purchased your dream motorcycle and need to ship it overseas? Or are you moving to another country and want to ship your motorcycle to your new location?
Below are some preparation tips for shipping your motorcycle overseas in a safe manner as well as the recommended loading procedures.
Motorcycle Shipping Methods:
First, determine how you want to ship your motorcycle. What method suits your needs most? Airfreight or by ocean?
The time frame with which you expect to have your bike at its final destination will determine which method you use. Air freight is much quicker but more expensive.
Ocean can take weeks but is the most economical way to ship your bike internationally.
This all depends on the distance, budget and the delivery time.
Preparing your motorcycle for shipping:
Clean your motorcycle of all heavy dirt and make sure there are no soil deposits on the wheels or tires
Inspect and note damages – scratches, dents
If the bike is in running condition, check fluids, battery, tire pressure.
Remove all accessories, loose items, and alarms and store them safely
You should only have up to ¼ tank of gas during shipping
Take photos of your motorcycle at the drop off location or before its picked up by the trucking company
Talk to your shipping company about marine insurance to protect your motorcycle against damage and theft while being shipped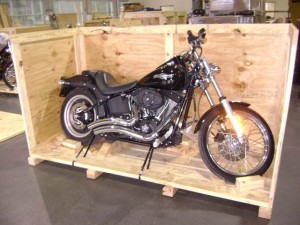 Motorcycle loading methods:
Motorbikes can be individually crated for shipping for extra protection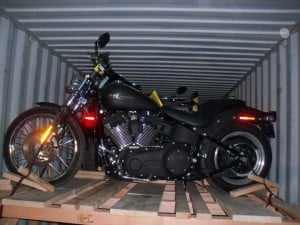 Motorcycles can be also blocked and braced inside the container for multiple bike transportation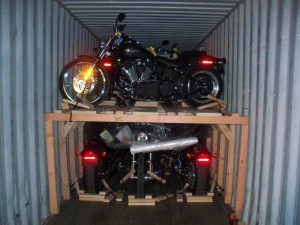 Loading is an extremely important part of any shipment. Make sure the international motorcycle shipping company you decide to ship with follows these guidelines.
If you follow these preparation tips, your motorcycle shipping process will be much more effective. Use this checklist and contact one of our motorcycle shipping consultants for your more information or fill in the quote form for a free estimate!