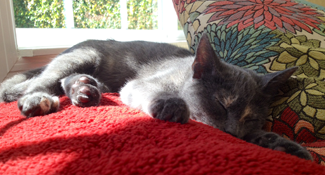 Attention: The following information should be used as a general guideline. Requirements for each country can change frequently so make sure to contact the proper authorities before you travel to Ireland with a pet.
Entry Requirements for Pets
There are different entry requirements for Ireland depending on which country you and your pet are going to be coming from.
In this case, pets relocating from the U.S fall under their lower-rick country classification. Like the rest of the EU they require preventative measures against disease carried by animals into the country.
Your pets will need both identification and completed vaccinations before consideration for entry.
Identification
The only accepted form of pet identification in Ireland is now with a microchip. The only exception is if your animal had a tattoo ID done before July 2011.
To avoid having your pet re-chipped after arriving in Ireland, check that yours complies with either the ISO 11784 or ISO 11785. You will also need a veterinary certificate stating the date of micro chipping.
Pet Health Requirements for Ireland
After implanting your pet with a recognized microchip, the process of making sure it receives all the necessary vaccinations can start. The first and most important is the rabies vaccination.
If you have your dog or cat vaccinated for this before the microchip was installed it will not be valid, so have your pet vaccinated after identification. You must get this done 21 days before your pet arrives.
Also, if you are bringing your dog to Ireland it must receive additional tapeworm treatment between one and five days prior to traveling to Ireland. Ticks and other external parasites should also be vaccinated.
Important Certificates Needed
Letter from your vet

Rabies vaccination certificate

EU vet health certificate

USDA endorsement
The last step will be obtaining an international health certificate and the required tapeworm/tick treatments from your vet. This must be done within one to four days before your pet leaves.
Making Travel Arrangements for Your Pet
If you are going to move to Ireland and bring your dog or cat, you'll have to make certain travel arrangements. Pets can only enter Ireland through an approved airline and must arrive in Dublin.
You'll either need to accompany your pets or designate someone else to be responsible for them because after they arrive in Dublin, you'll have to pay for an approved carrier to transport your dog or cat to the department which handles quarantines.
At this point, your animal will be inspected to make sure it complies with regulations. If it doesn't, it will be quarantined until it does so for a maximum of 21 days.
Written by Damien Shields