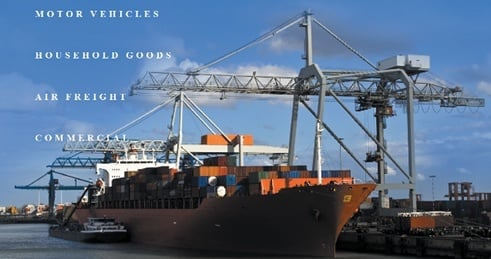 Austria is one of many landlocked countries in Western Europe which means it lacks a direct sea route, but it does give you options for choosing a port of entry.
<p">Essentially you could ship your goods through italy, for distance purposes, or Antwerp in Belgium, as vessels leave more often for this port.
When shipping personal effects like household items, furniture or even a vehicle to Austria, you will also want to account for transportation costs from whichever port your goods arrive at in Europe.
Documents Needed When Shipping Goods to Austria
Austria is a member of the EU and therefore follows the import procedures and customs regulations laid out.
There are some important documents that are absolutely necessary for importing your belongings.
You'll notice that some of these documents apply only to those that are relocating to Austria from overseas and declaring residency as opposed to temporary imports.
These include:
Your passport.
Customs Declaration.
New residence permit and certificate of residence change.
Proof of ownership on your goods.
Proof that your stay abroad was for more than 12 months (relevant to taxes and fees.)
Three identical inventory lists.
Depending on whether you are shipping a vehicle or just household goods, additional documentation may be required. The intent of the stay will also dictate which documents are needed as mentioned.
More information is available on our moving page for those relocating to Austria as well as our resource for shipping cars and vehicles.
Major Austrian Cities We Ship To
There are additional cities which we can arrange further transport to, but these are the largest and most common destinations.
Vienna
Linz
Salzburg
Innsbruck
Graz
Shipping Costs to Austria
There is no general figure to list here however, to give you a better understanding of the costs involved, read this section.
Costs associated with transporting personal effects and vehicles to Austria are based upon multiple factors. These include:
Shipping method ie. air freight, full container, shared container.
The amount of space required for a shipment (for shared container service).
The location of your goods in the U.S and the departure port.
Which port of entry you decide to use.
Whether you qualify for duty free import of your goods/vehicle.
Whether you are using a door-to-door shipping service to Austria or door-to-port.
These are the basic variables to consider when accounting for costs.
To get an exact rate for your shipment, give us a call and one of our specialists will be happy to answer any questions. If you prefer online, fill out our free quote form.