Shipping to Austria from the USA via container seems complicated since it is one of many landlocked countries in Western Europe. This means that it lacks a direct sea route for the ship to enter. Though this situation does give you more options for choosing a port of entry.
Essentially you could ship your goods through Italy for distance purposes, or Antwerp in Belgium, as vessels leave more often for this port. When shipping personal effects like household items, furniture or even a vehicle to Austria, you will also want to account for transportation costs from whichever port your goods arrive at in Europe.
Read our guide on how to ship to Austria from the USA below and start your international shipment today!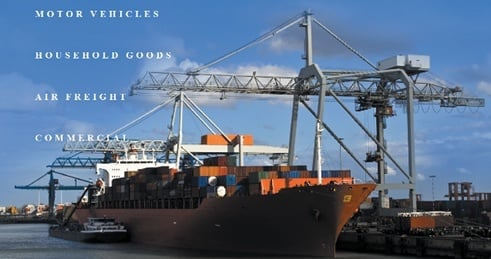 How to Ship to Austria
When shipping to Austria, you want to start with all of the details particular to your shipment. Start with gathering info on the type of good, origin, and destination. With this info we can begin to work with you on completing your shipment.
Type of Good Going to Austria
As a fully licensed, bonded and insured international shipping company, we can ship almost anything to Austria.
Popular goods to ship to Austria include:
Household Goods/Furniture
Vehicles
Motorhomes and RVs
Equipment
Cargo and Freight
Major Austrian Cities We Ship To
Shipping to Vienna is the most popular of all of the Austrian cities. There are additional cities which we can arrange further transport to, but these are the most common destinations:
Vienna
Linz
Salzburg
Innsbruck
Graz
Costs for Shipping to Austria
There is no general figure to list here however, to give you a better understanding of the costs involved, read this section.
Costs associated with transporting personal effects and vehicles to Austria are based upon multiple factors. These include:
Shipping method ie. air freight, full container, shared container.
The amount of space required for a shipment (for shared container service).
The location of your goods in the U.S and the departure port.
Which port of entry you decide to use.
Whether you qualify for duty free import of your goods/vehicle.
Whether you are using a door-to-door shipping service to Austria or door-to-port.
These are the basic variables to consider when accounting for costs.
To get an exact rate for your shipment, give us a call and one of our specialists will be happy to answer any questions. If you prefer online, fill out our free quote form.
Container Shipping to Austria
Container shipping to Austria is our most popular service to the country. The service involves loading goods into a container and shipping it for the ocean part of the transit. We offer two different types of container services which suit different circumstance.
Consolidated Container
When shipping from USA to Austria, a consolidated container offers the most value for the transit. With this, a container is loaded using goods from multiple customers. Using this allows customers with less goods to have great value since they only need to pay for the goods they ship rather than a full container. These consolidations go to the European base port with the best rate, then are transported by land right to your door.
Personal Container
A personal container is the best choice if you have enough goods to fill the entire thing by yourself or you need more control over the time. We offer both 20 and 40 foot containers which hold 1000 and 2000 cubic feet respectively. If you can use the space it makes sense to use your own container. Another benefit is by shipping your goods by yourself, you can control more of the timeline since you don't have to wait for other customers. So if you need to ship ASAP, a personal container may be the choice for you.
Documents Needed When Shipping Goods to Austria
Austria is a member of the EU and therefore follows the import procedures and customs regulations laid out.
There are some important documents that are absolutely necessary for importing your belongings.
You'll notice that some of these documents apply only to those that are relocating to Austria from overseas and declaring residency as opposed to temporary imports.
Austrian Shipping Documents Include:
Your passport.
Customs Declaration.
New residence permit and certificate of residence change.
Proof of ownership on your goods.
Proof that your stay abroad was for more than 12 months (relevant to taxes and fees.)
Three identical inventory lists.
Depending on whether you are shipping a vehicle or just household goods, additional documentation may be required. The intent of the stay will also dictate which documents are needed as mentioned.
More information is available on our moving page for those relocating to Austria as well as our resource for shipping cars and vehicles.
More Austrian Shipping Info
If you are ready to start shipping to Austria from the USA, fill out our Online Quote Form and we'll get back to you right away.
For more info on any of the above, call in at US: 562-408-6677 or Toll-Free: 800-599-0190
SCL Austria Shipper Reviews