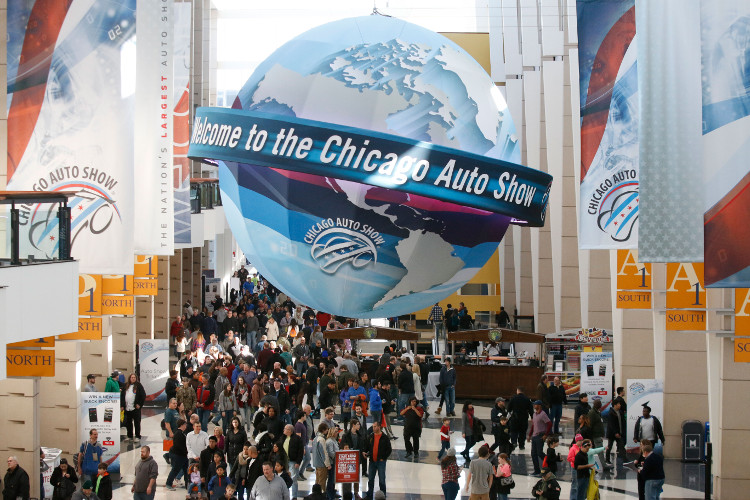 The annual Chicago Auto Show is the nation's largest and best-attended auto show. The 2019 Chicago Auto Show will take place from February 9-18, 2019, at McCormick Place in downtown Chicago, Illinois.
First staged in 1901, the 2019 event will be the 111th Chicago Auto Show. It is owned and produced by the Chicago Automobile Trade Association.
What You'll See At the Chicago Auto Show
The show takes up more than 1 million square feet of McCormick Place, the largest convention center in North America. Exhibits will feature nearly 1,000 of the newest cars, trucks and SUVs. Vehicles on display include production cars, debut models and concept cars.
If you're unable to attend but still want to follow along, check out the hashtag #CAS19 on social media to see live updates from attendees and exhibitioners. Get a glimpse of last year's concept cars here:
Chicago Auto Show Hours & Dates
The show takes place in February, giving Chicagoans a great excuse to get out of the blustery cold coming off Lake Michigan. The 2019 Chicago Auto Show dates are Saturday, Friday 9 to Monday, February 18 (Presidents' Day).
The Chicago Auto Show hours of admission are 10 a.m. to 10 p.m., every day, however the show will close at 8 p.m. on its final day in honor of Presidents' Day.
Chicago Auto Show Tickets & Parking
Tickets for the Chicago Auto Show are available online or at ticket booths within McCormick Place. Adult tickets are $13, and tickets for children (7-12) and senior (62+) are $7.
Chicago Auto Show discount tickets are available in a few ways:
CATA Member New-Car Dealers: Visit a participating local dealer and ask for a $6 weekday discount.
Women's Day: On Tuesday, February 12, women are admitted for $7.
Food Drive: Attendees who donate three canned foods will receive $5 off adult admission for February 13-15. All food collected will benefit A Safe Haven Foundation.
Chicago Auto Show parking is available on-site in the three main McCormick Place parking lots: A, B & C. Parking in Lots A & C is $23, and parking in Lot B is $15. After 6 p.m. during the Chicago Auto Show, the parking rate is $10.
More information for tickets, parking and the show in general can be found on the show's official website.
Things To Do in Chicago in The Winter
While you're in town, take advantage of the other attractions in Chicago. Don't let the chilly February weather deter you from touring around; there are plenty of things to do in Chicago in the winter:
Museum Campus: Spend the day wandering around world-class museums like the Field Museum, Shedd Aquarium or Adler Planetarium.
Millennium Park: Skate at the McCormick Tribune Ice Rink, or take a mirror selfie at Cloud Gate (also known as "The Bean").
The Magnificent Mile: Shop along Michigan Avenue, Chicago's premier commercial district. Or just window shop, if that's what your wallet is telling you.
Broadway in Chicago: Chicago is a main stop in the Midwest for national productions of Broadway musicals. Touring shows in town at the time will be box-office hits "Hamilton" and "Dear Evan Hansen."
Lincoln Park Zoo and Conservatory: Discover a jungle in the middle of the concrete jungle. Admission to the zoo and conservatory is free, but you'll still see incredibly flora and fauna.
Shipping Your Car with Schumacher Cargo Logistics
If the Chicago Auto Show inspires you to take your vehicle on the road, we've got you covered. Schumacher Cargo Logistics has 40 years of experience in international car shipping. Get a free shipping quote from our moving specialists and call us toll-free at 800-599-0190 now to get started!
More Reading