Moving to Ireland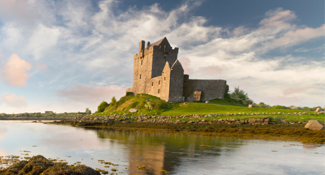 Moving Your Home and Personal Effects to Ireland
Things to Consider When Relocating to Ireland
Irelands national language is Gaeltacht, mainly spoken in Galway, Kerry, Cork & Mayo. English is spoken all over as the main language.
Ireland is the home of Guinness
Gaelic Games such as Hurling, Handball & Camogie. are still very popular
Golf has been known to be played in Ireland also!
Foreign person wishing to reside in Ireland, must have a valid entry VISA
Population of about 4.6 Million, ranked 120th in the World
VAT for 2013 is set at 23%
3 Different Service Options to Choose from
Shared container service
Exclusive use container
4 Major Cities in Ireland we ship Household Goods to:
Dublin
Belfast
Cork
Galway
Tax Information for Those Moving Homes to Ireland:
Knowing the income tax structure for Ireland is something that everyone should know before they move here. In Ireland, the tax on an individual's income is progressive and for 2013 the tax rates are 20% and 41% respectively and in some cases there are reduced rates.
For those relocating to Ireland to start a business, as of 2013 the rate is fixed at 12.5%. The landscape is different for trading income and the rate on passive income is 25%. To get all the updated information, visit Ireland's Revenue Service.
Ireland individual income tax rates 2013 (single)
| | |
| --- | --- |
| Tax base (EUR) | Tax (%) |
| 0 - 32,800 | 20% |
| 32,801 and over | 41% on base exceeding 32,800 |
In order to be considered an Irish resident you must have residency for more than 183 days a year in Ireland or residency of more than 280 days over a period of two years. This distinction is important as it pertains to taxable income for those on a salary.
Your employer is obligated to take out the amount of taxes payable each month. If you plan on being self employed, you are going to have to prepay the income tax which will be offset later after filing your return.It is important to point out that as regards taxable income from a salary; the employer is obligated to deduct the amount of tax payable on a monthly basis. A self-employed person must prepay income tax that will be offset on filing an annual return.
Tips for Pet Transportation to Ireland
Different permits for; Cats, Dogs and Ferrets than for; Birds, Rabbits and Rodents
Pet must be vaccinated against Rabies within 21 days of arrival
Dogs must be treated for tapeworm between 24 and 120 hours before travel
For further information on any of above, call and discuss your move with one of our Moving Specialists at: 800 599-0190 // 562 408-6677
Written by Martyn Cohen