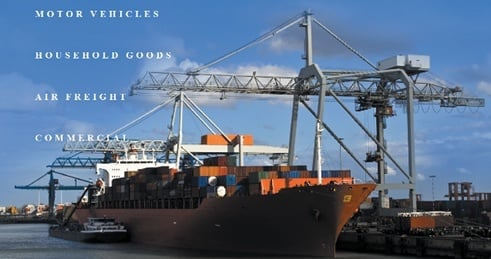 Relocating overseas does not have to be a stressful experience. If you've decided that moving to Poland is for you, and you want to move all of your personal belongings, furniture and household goods, or even a vehicle. Then we can help you.
Over the past 30 years we have been providing first-class shipping services to Poland for a variety of different types of cargo.
We have the experience to make the process simple for you.
Company Services for Poland
Our International relocation experts will handle everything for you in exporting your goods. This can include pack and wrap at your home here in the US, door to door, or port to port service, you decide.
We will also walk you through the preparation of the documentation needed for U.S. customs, any notary services that can be done in-house and we'll work with you hand in hand making sure this whole process runs as smooth as possible.
Depending on your needs as a client, the initial quotation will be based on what information you give us on the quote form. However, we are here to serve you and make sure you get what you need from an international shipping company.
If you would like to explore other options, such as a port to door or door to door, Groupage or FCL service, make sure to let your export specialist know during the first consultation.
Also included in our rates will be:
Full inspection once the shipment arrives at our warehouse
Dock receipt and access to our online tracking system
Photos of vehicle taken upon receiving at our warehouse
Shipping to Poland
Because it is a member of the EU, it follows the regulatory guidelines laid out by the European Union for goods and other commodities entering from the U.S. (or non EU member state.)
Some items may require an import approval or an import license. If you're unsure as to whether it applies to what you're shipping, you can consult one of our specialists.
Transporting Autos and Household Goods
There are different services available depending on what you are shipping. In this case, if you're bringing a vehicle, then you will have the option of using a container service, roll-on roll-off or air transportation.
The import procedure will be a little different between household goods and vehicles in terms of customs duties and any additional taxes.
More information on our shipping services to Poland for these types of cargo can be found on the individual pages in more detail.
Major Destinations
There are a number of final destination cities that we can ship to. These are just a few:
Krakow
Lublin
Warsaw
Poznan
Gdansk
*Depending on the options you choose, delivery can be arranged for other cities as well.
Ports
Our services from the U.S. for shared containers go to Gdynia. This is the port of entry and it is located on the Baltic Sea in northern Poland.
Using this method, your container will arrive at the port and will need to clear customs. There may be other choices available using ro-ro or your own container.
Import Duties and Customs Declaration
Duties on imports are levied on commercial as well as individual shipments and they will range based on the types of goods.
Like the rest of the EU, the numbers are based on a CIF value. Meaning that duties take the cost/value of the goods or vehicle, insurance costs and cost for the freight (transport).
These are part of the destination fees which are not included in our quotations. Additionally, Poland also has a standard VAT rate of 23% calculated on the CIF value.
Scenarios regarding exemptions from paying these taxes and duties, including qualifications, are found on the resources for cars and household goods.
Time Frame for Shipping Cargo
How long it takes to ship to Poland from the U.S. depends on many variables, so there's no way for us to give an exact number without obtaining more information from you first.
As a general time frame, those using a container service to Gdynia for household goods or vehicles can expect an ocean transit time of around 4-6 weeks.
If you have decided to use an airfreight service, the process can be completed in around 10 days from start to finish.
You can get a much more accurate assessment of the time and costs by calling one of our experts at (562) 408-6677.
Written by Damien Shields