Moving Overseas from California?
It's hard to imagine moving abroad, especially for those who are relocating to another country from the Golden State. There are steps you may be unfamiliar with, so the best first step is finding a reputable California overseas mover. As the premier California international movers, we know that every individual will have budgets set in place and specific needs, which is why we tailor our moving services to each clients' move.
Whether you are moving an entire household worth of goods or simply a single bedroom or office, you'll be able to select the option that works best for your budget, size of move and final destination requirements.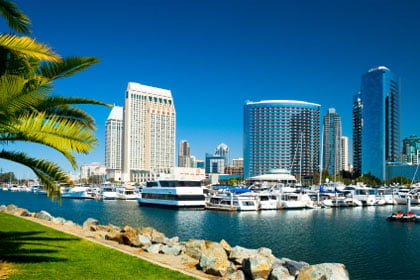 California International Moving Services
Our company's headquarters is in Los Angeles, from which we serve California's international relocation needs.
As a full service international moving company, we will help move your home overseas from San Francisco just as easily as someone moving from LA.
Furthermore, when using Schumacher Cargo as your California international mover, you'll have the peace of mind knowing that we'll be the ones handling your personal effects since we're not a broker.
Overview of Our Services
Professionally trained local pickup, delivery, and warehouse crews
Pickup service from anywhere in California
In office notary for customs documentation
Offer both shared container and full container shipping options
Delivery right to your door in the new country
Worried about whether we have services to your small city or town? Don't be. We've helped families move overseas from major cities in California as well as from smaller towns.
Shipping Your Household Goods
The process of moving your goods overseas from California is straightforward when you've been doing it for as long as we have.
The steps are simple; after making a booking, we will provide in home packing of your personal effects, wrapping and transport to our location if using a door to door service.
Those that are planning an international move from northern California, San Francisco, or Sacramento could have the option of a direct transport to one of closer ports but in general, we will be shipping your household goods from our Southern California location.
Once your shipment arrives at our warehouse, our team of international movers will make sure that everything is secured, issue a full inspection and inventory report and prepare the necessary documentation for US customs.
How Much Does a Moving Overseas from California Cost
With moving from California to countries overseas, the shipping cost is based around your particular situation. Factors such as size of move, destination, and service needed all affect the price. For this reason, our representatives create custom quotes for each move. Our quotes include a breakdown of the entire move and are all inclusive with no hidden costs.
Find out the cost of your move by requesting a FREE Moving Quote!
How Long Will My Move Take
The question depends on whether you are using your own service, how soon we can transport your goods to our warehouse, and the final destination.
For example; someone who is moving to London from California can expect a longer transit time than someone moving to Australia.
After we have received the container, the amount of time generally for shipments heading to Europe from the port of LA, it roughly takes four weeks on the water.
Moving cargo to Australia or New Zealand from California usually requires about three weeks. It's important to note that these figures should serve as guidelines rather than exact numbers.
The same goes for assessing the costs of an international move from California. Since each varies, by volume, destination and location, we don't offer a cookie cutter rate or time for overseas moves.
Start Your California International Move with Schumacher
Since 1977, Schumacher Cargo Logistics has offered premier international moving from California to destinations all over the world. With over 40 years of experience we have developed the processes and services to remove the hassle from your move overseas.
Fill out our Online Quote Form and start your move overseas today!
For any other questions on a move, destination services, or locations, call one of our household goods shipping specialists:
US 562-408-6677 // Toll Free 800-599-0190
Schumacher California International Moving Reviews