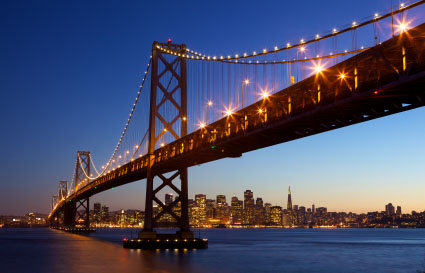 Moving Overseas from San Francisco
As international movers, we've been serving San Francisco and the greater Bay area for over 30 years. Some of the destinations we move individuals and their household goods to include:
Australia
The UK
Germany
South Africa
Australia
Hong Kong
These places are common, but Schumacher can transport your effects from San Francisco to almost any destination across the globe.
Whether you're taking a new job overseas or looking for a change of scenery and need to move from San Francisco to France, our goal is to make any overseas relocation as smooth as possible.
It doesn't matter where you are located, whether it be downtown SF or one of the surrounding cities like Oakland, San Mateo, Berkley or Hayward, we can help you move. Just give one of our specialists a call at 800-599-0190 and you'll have an accurate quote in minutes.
Our Household Goods Moving Services for San Francisco
There are tons of international moving companies in San Francisco and making the decision which one to go with can be hard work.
That's why we make the decision easy for you. Our international moving service covers everything here in the states.
This includes pack and wrap at your home, transport and all the necessary export documents and paperwork for U.S customs.
Those that prefer to pack their belongings themselves can have a container delivered to their residence and as soon as it's ready, we can come by and pick it up!
For anyone moving from San Francisco abroad, we'll transport your belongings first to our warehouse in Los Angeles and make sure everything is secure and ready for the overseas transport.
How Long Will it Take to Move My Personal Effects?
Though our team works fast, we try not to throw out exact numbers because each and every shipment is different.
As mentioned, we'll need to transport your household goods from San Francisco to LA first and after everything has been cleared, ocean times then depend on the final destination.
Factors that influence timeframes depend on the size or amount you are moving, your method and the location your personal belongings need to get. If you need a few boxes shipped from San Francisco, it will be much quicker than an entire household.
Also, we are on the west coast so goods will take around 4 weeks to ship to Ireland or France. You can expect your cargo to be on the water for around three weeks when moving to Oceana and other destinations in the Pacific.
If you are interested in getting quick answers, contact one of our moving specialists at 800-599-0190 or complete the quick quote form.
Written by Martyn Cohen
Schumacher Cargo Moving

Reviews



I have had the pleasure of using Schumacher Cargo for the past 7 years on several occasions now for international moves from/to Europe/US…