Moving Overseas from San Francisco
As San Francisco international movers, we've been serving San Francisco and the greater Bay area for over 40 years. It doesn't matter where you are located, whether it be downtown SF or one of the surrounding cities like Oakland, San Mateo, Berkley, San Jose, or Hayward, we can help you move. Our international moving company covers the whole Bay Area and we complete hundreds of moves in the area a year.
Some of the destinations we move individuals and their household goods to include:
Europe
Oceana
Middle East
Asia
South America
These places are common, but Schumacher can transport your effects from San Francisco to almost any destination across the globe. Whether you're taking a new job overseas or looking for a change of scenery, our goal is to make any overseas relocation as smooth as possible.
Read our page below on how to move internationally from San Francisco and start your international relocation today.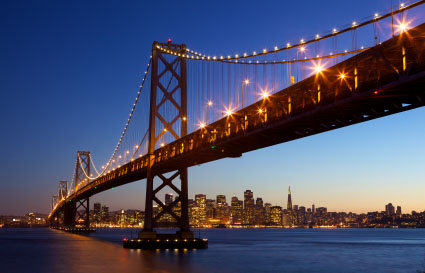 How Much Does International Moving from San Francisco Cost?
SF international shipping costs depend on factors particular to your move. A few of the details that affect the cost are volume of goods and the destination. For example, international moving from San Francisco to the UK will have a different price than to Saudi Arabia even with all other things the same. Because of this, our representatives create custom quotes for each shipment.
Just fill out our Online Quote Form or call in at 562-408-6677 and get an international moving quote from San Francisco today.
San Francisco International Moving Services
There are tons of international moving companies in San Francisco and making the decision can be hard work.
That's why we make the decision easy for you. Our international moving service covers every part of your move from door to door. This includes pack and wrap at your home, transport, and all the necessary documents and paperwork for customs.
We also offer international car shipping services from San Francisco as well. This means that we can complete your move no matter what you need to ship.
Consolidated Container Shipping
With overseas shipping from San Francisco, a majority of our customers go through our consolidated container shipping. What this means is your goods are grouped together in a container with others going to the same destination. This service allows us to offer the best rates in the business as you only need to pay for the space you use.
Personal Container Shipping
If you have a large enough move or need more control of time frames, we also offer personal 20 and 40 foot container shipping. The volume these containers hold is about 1000 and 2000 cubic feet respectively. With enough to fill these, it makes sense to ship your own container as you can maximize the container volume and ship once your goods are ready.
How Long Will it Take to Move My Personal Effects?
Though our team works fast, we try not to throw out exact times because each and every shipment is different.
Factors that influence time frames depend on the size or amount you are moving, your method, and the destination. On average a door to door move will take around 6-10 weeks, but all those factors play a part in overall time. For example Australia may be closer to 6 while Greece may be closer to 10.
Start Your San Francisco International Move with Schumacher
If you are ready to move overseas from San Francisco, fill out our Online Quote Form and get started.
For more info on any of the above, call in at US: 562-408-6677 or Toll-Free: 800-599-0190
More Reading
SCL International
Movers San Francisco

Reviews