If you're looking for reliable and experienced international shipping to Israel from the United States, you've come to the right place. Are you interested to find out how much it costs to ship to Israel? If so, fill out our online form or give us a call. We'll give you the most competitive rate based on your specific needs.
Since 1977, we've made thousands of clients happy, by shipping their personal belongings to numerous Israeli destinations. With 5 locations in the US, you can be sure that no matter where you're located, we can offer you door to door service for your belongings and get them to where they need to go stress free.
Read our guide on how to ship to Israel from the USA below and start your international shipment today.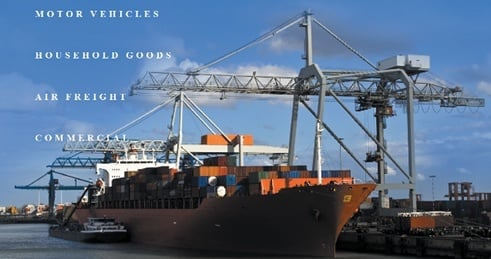 How to Ship to Israel
When shipping to Israel from the USA, start gathering details particular to your shipment. A few of the things you should have in mind are the type of good, origin, and destination. With this info we can begin to work with you on completing your shipment.
Regardless of what you need moved, our experienced team can make it happen. We specialize in shipping:
Household goods and other personal effects
Automobiles and motorcycles
Trucks and machinery
Motorhomes and RVs
Equipment
Specialty goods
How Much Does Shipping to Israel Cost?
When shipping to Israel, the price is determined by the specifics of your details. Factors that influence the price are the type of good, origin, and destination. For example shipping to Israel from LA will have a different price than from NY even with everything else the same. Since this varies, our representatives create custom quotes for each shipment to Israel.
Use our Online Quote Form and get your cost to ship to Israel
Schumacher Shipping Services
Depending on what you are shipping to Israel, be it automobiles, household goods, or a combination of both, there are different methods for transporting your cargo.
The most common methods for international shipments via ocean are containerized shipments.
We recommend using our consolidated container services for the majority of our shipments to Haifa from the US.
Consolidated Container Shipping to Israel
When using consolidated container shipping to Israel, you get the best value for your goods. This is the case because your goods are shipped together with others shipping to Israel. By doing this, you only pay for the space you use, rather than need a whole container for yourself.
Sole Use Container Shipping to Israel
If you have enough to ship or need to skip the consolidation period, we also offer sole use containers. Our main options are 20 and 40 foot containers that hold 1000 and 2000 cubic feet respectively. This may be more expensive if not near capacity, but for some having the goods earlier is worth the difference.
Air Freight to Israel
Alternatively, we offer air freight shipping to Israel if your goods need immediate transport to their destination. This service can reduce transit time to a 2-3 weeks, but the costs do match the convenience. So if time is of the essence and money is not an issue, ask for our airfreight department and they'll send you more information.
Our Services to Israel
When shipping, we cover everything on the export side including domestic pickup and transport of your goods, documentation, full dock receipt and inspection, online tracking, and customs clearance.
Once your shipment arrives, there will be destination fees in Haifa which are not included in our auto shipment quotations. However, our destination agents will gladly help with clearing Israeli customs. For moves, our quotes include door to door services with everything included.
Shipping Information and Documents for Israel
Missing or incorrect documentation can result in long delays and additional costs, which is why we make sure that we have all the necessary documentation before your goods depart.
The exact forms and regulatory documents depend on the goods shipped; however these are the most important.
Passport and residence permit
Letter authorizing destination agents to clear shipment
Bill of lading
Detailed inventory both in English and Hebrew
Power of attorney
Major Shipping Destinations in Israel:
Port of Entry: Haifa
Jerusalem
Haifa
Tel Aviv
Ashdod
Rishon LeZion
Beersheba
Holon
Selecting a port of departure in the US depends on the specific needs of the shipper. The best route is always suggested based on consolidation, steamship routes, and other factors.
Ideally, shipments to Israel will depart from one of our shipping locations on the east coast: New York, Savannah or Miami.
Those using our port to port shipping service to Israel will have their belongings delivered to Haifa, where our port of entry is located.
From there, we arrange inland transport if necessary. Be sure to let your sales representative know if you are looking to move your automobile or other cargo to a different final destination.
Important Information
Like many other countries, you need to be present for the goods to clear through customs.
There are certain instances where those with temporary residency allows a duty free import. It doesn't apply to vehicles however. For other types of household goods and personal effects to qualify, they must be owned by the shipper and the shipper must have lived outside of Israel at their previous residence for at least a year.
*It's very important when shipping to Israel to make sure that you have a certificate of origin for items on your inventory where possible as it will affect the rate.
For instance, there's a 14% difference in the duty rate for strollers depending on whether you have a certificate of origin or not. More information on Israeli customs and tariffs can be found here.
How Long Does It Take to Ship Cargo to Israel?
The time frame for shipping to Israel depends on the method used, type of goods/vehicles, departure port, etc.
When using our consolidated container shipping to Israel, the container will not leave until it's full. So this service may take slightly longer before your goods leave than if you were to purchase an individual container and ship this way. Once a container is prepared and loaded, your personal effects or other cargo sail on the water for up to 4-6 weeks.
If you have specific time frames, let your specialist know and we'll work together to prepare the sufficient time.
More Israel Shipping Info
To start shipping to Israel from the US, please fill out our Online Quote Form.
For information on any of the above, call our representatives at US: 562-408-6677 or Toll-Free: 800-599-0190
SCL Israel Shipping Company Reviews