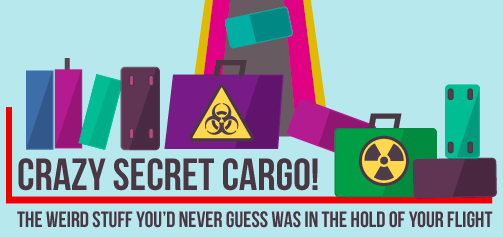 For the right price, airlines will fly almost anything! Have you enjoyed an in-flight movie unknowingly sitting a few feet above a live alligator or a dead body? Check out this infographic brought to you by your friends at Schumacher Cargo. We're proud to be the cargo and international moving specialists!

Place this Infographic on Your Site with this Code
How Much Cargo Flies With Us?
Proportion of all cargo entering US (from the United Kingdom to Sweden, China and other countries) in 2010 that flew via passenger jet = one third.
Amount of cargo volume on trans-pacific passenger flights in 2013 – 9.4 million cubic meters (that's 3,760 swimming pools of cargo being moved each year)
Hold volume of an Airbus A380, the big daddy of all passenger jets – 184 m³ (that's roughly two semi trucks)
Yearly revenue for US airlines from cargo on passenger planes = $4.7 billion
Profit margin on Delta's cargo business = 50%
So, want to know what you could be sharing a plane with?…
A Dead Body?!
Human remains traveling cargo on passenger flights are surprisingly common.
Airline code for a dead body on board – "Jim Wilson"
Cadaver crates are labelled "HEAD" so loaders know which end is which.
In 2008, a woman was stopped at Munich airport after baggage control found her brother's skeleton in her case. His last wish was to be buried in Italy. As she had a death certificate and was breaking no German laws, she was allowed to board.
Number of on-board deaths each year – 260!
Singapore Airlines Airbus A340-500 features a "corpse cupboard" for storage just in case someone dies on the plane.
Radioactive Material
It's common for small amounts of radioactive material, usually for medical uses, to be transported in the holds of passenger flights, specially packed to prevent leakage.
A Bomb?!
In 2010, explosive devices were found hidden inside Hewlett–Packard printers on passenger flights. But don't panic – since this incident, airlines are required to screen 100% of cargo
Number of commercial airline bombing incidents– 88
Number of bomb-detection dogs working nationwide in 2007 = 400
Number dead from bombs in air = 44: 1955 – United Airlines flight DC-6B from Denver to Seattle crashed after John Graham hid a dynamite bomb in his mother's luggage, in order to collect her life insurance.
Live Animals
Need to move your pet? No problem. Major airlines fly everything from grandma's pet Chihuahua to poisonous snakes.
Number of live animals transported by air every year in the United States – over two million.
Number of pets that died on air flights between 2005 and 2010 – 144.
In 2013, DHL flew three manatees to new homes. The marine mammals were loaded in open-topped crates in the hold.
In 2010, security staff at Bangkok airport discovered a tranquilized baby tiger, not-so-cunningly hidden in a suitcase of toy tigers.
Firearms?
Airlines will take guns and ammunition as checked baggage, but for some passengers, that just ain't handy enough.
Number of guns found in carry-on luggage in the United States in 2013: 894
In one week during that period:
65 guns found
45 loaded
15 had bullets in the chamber ready to be fired.
Increase in guns found in 2012 – 30 %
Luxury Cars
When you've spent a cool million or two on a car, man, you just don't want to wait! You want that car shipped to you ASAP. Everything from Formula One race cars to a $2.5 million Bugatti travel by air, many on passenger flights.
Number of cars flown by Delta on passenger planes per year = 100
Number of cars flown by Lufthansa per year = 1,400
Cost of flying a $450,000 Aston Martin coupe from Frankfurt Germany to New York on a Delta passenger jet = $10,000
Room for a Little…
Here's some other items you might be surprised to hear is flying under your feet…
Christmas cheer? This year, Fedex is delivering 17,000 live Christmas trees to American troops stationed overseas.
Breast milk? One courier company delivered 2,750 bottles of donor breast milk to South Africa in 2011 to help babies with HIV/AIDS.
Sperm? Animal and human, kept frozen in liquid nitrogen vapour tanks or on dry ice.
Crazy huh? Betcha' you'll be thinking about this on your next flight!