Learn how to save time and money for your overseas move!
Moving abroad can be an exciting adventure but it may end up costing you a pretty penny. There are many ways to save money while moving abroad but many movers are not always fully prepared because it is usually their first time moving and they don't know where the additional expense may come from.
These 5 tips may save you dollars when moving overseas.

From looking out for hidden fees, to selecting the right service level for you and your family's needs, transferring funds and equity at the right time, and understanding the local living expenses at the final destination is very important too.
The process from start to finish is precise and needs attention and detail. Be ready and organized and choose the right overseas moving company to handle the majority of the move for you.
1. Look Out For Hidden Fees
When moving abroad there are various service options, door to door, door to port, port to port, air freight versus ocean freight, and in each case there are usually multiple levels of costs and charges.
Do not get mislead into cheaper quotes that do not disclose all charges, as you will find out after the fact and they will look like hidden fees. One of the biggest hidden fees when moving is the exchange rate. You can ask your local bank in your new country if you can have an account with your own currency then exchange it when the exchange rate is at its lowest. You may also find that you can acquire a lot of fees through using a credit card in your new country. Check ahead of time with your bank about these fees and make sure you understand what taking money out and purchasing items will cost you.
2. Consider Health Care
Health care is always a financial concern. Before moving to a new country look up the cost of healthcare and emergency attention. If you move to a country in Europe, most of the health care is entirely free. Sometimes it may come down to moving over a country border to save you thousands of dollars a year in health care according to Money Savings Today. Make calls and decide ahead of time where you will go for care in case of an emergency or for regular checkups.
If you have children with you, ask for referrals to reasonably priced pediatricians in the area. One of the very best ways to save is to ask around and get an idea of what dental, vision, and other services will cost you. If you are moving because of a job relocation, ask about your new insurance plan and look through it extensively. If you are looking to retire overseas, check out the health care options for senior citizens.Things are very different from country to country and you can save a lot of money by making good healthcare choices.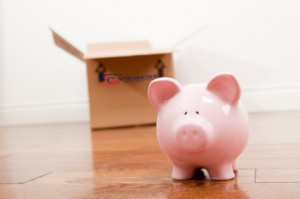 3. Be Flexible With Housing
Housing is usually one of the biggest costs of moving abroad. If you choose to be flexible with your housing options you can save a lot of money over the course of your stay. By contacting a competent real estate agency or local landlord ahead of time and negotiating a price, you may receive rent at a lower rate or lock in for an extended period of time. You may also pay a landlord a year in advance for a discounted rent.
If you're considering purchasing a home, it's suggested you live in the country at least five months so that you can determine the best price and location for your new home. If you wait, you can find incredible deals and can even learn how to save at housing auctions if you're a cash buyer.
If you were unable or chose not to sell your home in your country of residence, you can rent part of it out to help pay your mortgage. If renting in your new country is your best option, you can consider sharing a home with other professionals similar to you to save money. Packing your household goods carefully in advance will help you save time and money.
An expense worth paying for is making a trip to survey your new country prior to moving, you can utilize Couchsurfing.com, which is a website that allows you to stay with locals from all over the world. This free service has saved travelers and expats thousands of dollars and it's a great way to get to know your new country candidly.
4. Save Money To Save Money
According to Fox Business when moving you should have enough saved to "cover housing costs, including security deposits and other settling costs, plus emergency health care and repatriation expenses." Nomadic Matt, a famous digital nomad and expat also notes that if you simply cut out your favorite Starbucks beverage you can save up to $1,800 a year.
Preparing a moving budget ahead of time can also save you money as you will have a cushion in case your car breaks down or if there are unexpected health costs. Making the decision to avoid purchasing unneeded items a few months in advance of your move can also save you some extra cash.
5. Prepare With Visas, Passports, Customs and Budget Travel
One of the biggest costs of moving abroad can be your plane tickets and other travel necessities. By looking ahead of time and watching for good deals you can save hundreds on your plane tickets and hotel stays. Bookit.com offers many discounted plane tickets and you can also have Bing.com tell you when the cheapest time of the day is to purchase your tickets.
If it doesn't bother you to extend the time of your travel, you can save a lot of money by purchasing plane tickets that stop more and have longer layovers. Look up ahead of time what exact documents and visas you need in preparation to land in your new country.