Safe Loading and Handling Procedures for Motorcycles
Motorcycle loading procedures are critical in creating a positive international motorcycle shipping experience. From packing to loading, transporting to unloading roadsters or classic motorcycles, it requires careful planning and following best industry practices.

Loading motorcycle on trailers or on ramps are familiar day-in-day-out activities for motorcycle dealers and collectors worldwide. Of course, there are numerous steps involved as well as types of equipment used but to make things simpler we put together 5 key motorcycle handling and loading procedure guidelines:
Loading:
Ensure the container has the correct aesthetics to accommodate your particular type of motorcycle.
Read our motorcycle shipping advice for more information.
Remember to include each detail about what goes into the shipping container along with your motorbike
Drain all fluids from your vehicle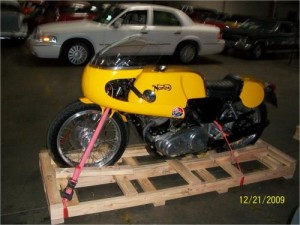 Motorcycle Handling and Loading Procedures requires careful packing and securing the motorcycle for international shipping
Packing:
Remember to strap your motorcycle securely and account for any moving parts
Leave your motorbike on the side or center stand
Remove the battery and reduce the air pressure
Documentation:
Create backup copies of all relevant documentation pertaining to your motorcycle
Try coming up with a checklist of paperwork, required motorcycle spare parts and accessories to ensure all grounds are covered
Get details of the international motorcycle shipper contact information and help line numbers in cases of emergency
Motorbike Shipper:
Trust reputed international shippers preferably with a proven track record of shipping motorcycles overseas
Set your expectations up front about the cost, time frame and insurance coverage with the vendor of your choice to avoid any issues later on
Check with the service provider about available packing crates and moving equipment like cranes to know if you have to arrange for the same on your own or not
Other Aspects:
Using strong belts for securely holding the bike in place
Check for any damages to your motorcycle existing before loading or after loading
Checking for licenses, smog check rules, permissions and other paperwork applicable to your particular type of bike
Running yourself through this comprehensive list of motorcycle loading procedure and tips will enable you to transport your asset in the most secured and economical fashion. Your dream machine needs to be handled in the correct manner!