Hawaii Car Shipping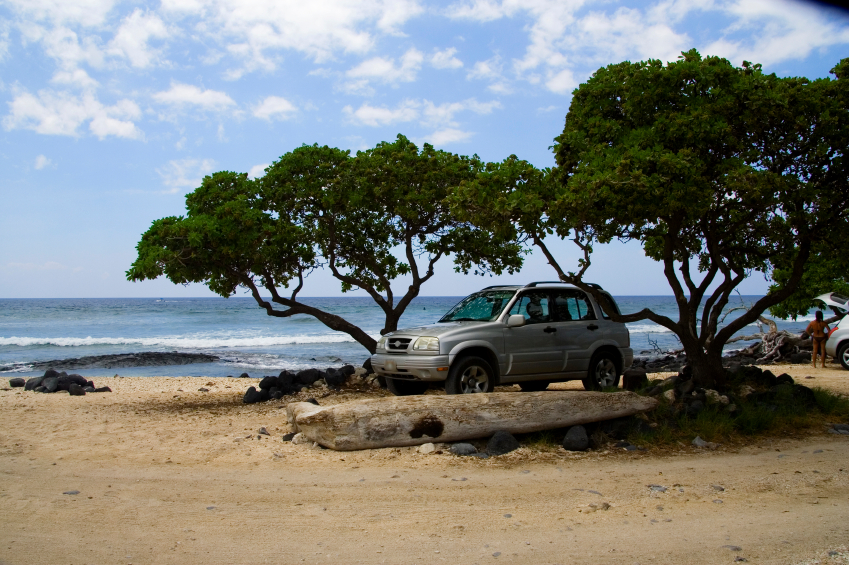 Hawaii is a special market for auto transport. As it's separated from the mainland, your main option for shipping a vehicle is ocean freight.
Fortunately, we can move any type of auto, motorcycle, boat and oversized equipment to and from the Hawaiian Islands.
Using our shipping services, all running, drivable autos are shipped to and from Hawaii in a shared 40' container.
Moving your car in containers reduces the risk of damage caused by ocean sea salts and helps shield it from the elements.
There are never more than 2 vehicles in each container, so both are floor loaded. This reduces the chance of any loading damage and is a very safe way to ship your car.
Also, the selection for departure and arrival ports are very specific with a slight variation in the process between international transport and shipping to/from the mainland.
For all vehicles that are too big to load inside a container, such as boat and oversized transports, we ask you please call and speak to a representative so they can give you the best solution and method of transport for your items.
Auto Transport Services
Please call Schumacher Cargo to get your specialized quote or visit our quote page and request an online rate.
Below, we've listed the port information as well as estimated transit times when shipping a car to Hawaii.
Ports in the continental United States - West Coast to Hawaii
Long Beach, CA
Oakland, CA
Tacoma, WA
Ports We Service in Hawaii
Honolulu - Oahu
Hilo - Big Island
Kawaihae - Big Island
Kahului - Maui
Nawiliwili - Kauai
Transit Times
Shipping a car to or from Honolulu:
It generally takes roughly 1.5 weeks from the time at which you drop off your vehicle at one of the west coast port locations.
This assumes that we receive all the necessary documents up front, the car is ready for departure and that we have a full container ready to be shipped.
Shipping to or from Kawaihae, Hilo, Kahului or Nawiliwili:
Assuming the same criteria as listed above, it takes 2.5 weeks from drop off at one of the west locations to or from the ports listed above.
Those relocating to Hawaii from New York or an east coast residence will first need to have their vehicle transported to one of the ports on the west coast.
So the entire process is much longer however ocean transit will remain the same. Domestic transport from the East coast to the West coast can take 10-14 days.
How to Prepare a Vehicle for Transit to Hawaii
Some of the recommendations may seem trivial but they are all absolutely necessary in order for the car to be shipped as quickly as possible without any delays.
Vehicle Condition
First, do not fill your tank. This is quite common as clients may have the urge to save money and fill up pre-departure but we require that your tank be no more than 1/4 full.
You'll need it to drive to a service station once your vehicle arrives at the destination. If the tank has more than this amount, there will be a degassing fee that the client will be responsible for.
You'll also need to either disconnect your alarm system or the entire battery before your car is loaded.
Disabled Autos
All cars/autos must be operational and safe with fully functioning brakes, transmission and steering.
Once we receive a vehicle, it will be inspected and if we find that it does not meet the requirements, it will not leave until the issues have been taken care of.
Additionally, all cars must have more than six inches of ground clearance. No exceptions.
Packing Additional Items
You also cannot pack additional personal belongings or boxes inside the vehicle including the trunk.
The only items that should be inside are the spare tire, jack and a car seat if it applies. Any additional boxes/items will be removed and may incur storage fees.
As you may have assumed, guns and all firearms, whether licensed or not, or ammunition of any type and fire extinguishers aren't allowed inside a vehicle during shipment.
Preparing to Ship a Car from Hawaii
There are many overlaps in terms of the paperwork that is required whether you're moving to or from the islands. Below is some information that should be used in addition to the vehicle preparations listed above.
Documentation
When we receive vehicles, we always require original documentation for registration and title in order to make copies. Some of the originals we will need to keep and you'll receive them at the destination port, others we will give right back to you.
If there is a lien on the vehicle, we will need a creditor/lessor statement. The financial institution or creditor will need to provide on company letterhead authorization that you can ship your car to or from Hawaii.
It must have your vehicle's identification number documented and the letter is only valid for 30 days from the time it was issued.
Drop Off
If you are one of multiple legal owners on the registration or title, all parties must be present at drop off.
In the scenario that one cannot be there, then he/she must provide a notarized letter stating that they authorize the shipment.
Delays
In some cases, vehicles may depart on a ship that is leaving later that the original sail date. Factors such as weather and unforeseen issues are out of our control so we ask that you please understand.
Vehicle Information
In order to fit and safely ship a car from Hawaii inside one of the shipping containers, it cannot be larger than 21ft 8in in length, 8ft high and 7ft wide.
Additionally, in order for us to be as accurate as possible in our inspections reports, we ask that vehicles be cleaned inside and out prior to delivery to our warehouse.
This is even more vital if the container with your car is being shipped to Tacoma, Washington as environmental and agricultural rules are stringent when it comes to external soil and dirt from outside the state.
If you have any questions for car shipping to Hawaii, or from, please contact us or call (562) 408 6677.
Written by Damien Shields