International Moving Advice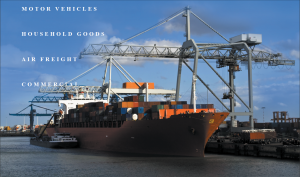 Relocating can be a truly harrowing experience from the very beginning. The first thing you can do is find a reliable moving and cargo shipping company that can take care of a lot of your worries (inevitably, there are some things that no moving company can alleviate).
You will be better off taking the time to carefully choose the right shipping company – after all, it is a very long process and they'll be shipping some of your most valuable possessions.
Of course, if your employer is relocating you for business purposes, most aspects pertaining to your move will be taken care of by the company, though some companies let their employees handle the relocation on their own, while just providing some budgetary ceiling and guidelines.
Like with most things today, there are tons of choice available to you, which can in fact make the decision all the more difficult. However, there are some key factors that should be considered in evaluating the moving company, which this article covers,
To skip ahead to later sections including our tips for choosing an overseas shipping company and the important questions you should ask, click on the respective sections below.
–Important Questions Should Ask
If you were to view it simplistically, the very broad aspects that dictate the ultimate choice will be:
Destination: Where are you relocating to and from where? Does the moving company provide services in those areas?
Goods being shipped: What kind of goods will you be shipping? Are you looking to ship your car or will it include only household items such as furniture and consumer electronics?
Urgency: How quickly do you want the goods to be shipped?
Budget: One of the most important considerations when it comes to relocation.
Level of Service: Does the moving company provide a complete end-to-end service?
Shipping costs
It is very important to remember that lowest shipping rates may not always be the best shipping rates. Read the fine print, because choosing a moving company that is offering exceptionally low rates may be providing lower service levels or accepting much lower responsibility in case something were to go wrong.
For example, a relocation company with no provision for workers' compensation insurance may charge you lower prices, but consider the liability you may incur if their uninsured worker is hurt while handling your luggage on your premises. It would, therefore, be better to pay slightly higher price rather than taking the risk.
The cost of shipping a consignment is determined by a representative of the moving company who surveys the entire list of goods. Pricing is generally based on the volume, weight, the distance of the destination and the type of move (by air, sea or road).
It must, however, be noted that it is an international air cargo convention to charge for weight or volume, whichever is greater. When moving effects by air, airline companies have devised formula to convert volume into weight to ensure that they earn a fair amount of freight charges for very light items, such as bags of light weight feathers which occupy lots of space.
Therefore, knowing factors such as the weight and volume are quite important in determining whether you should ship your cargo by air, sea or road in relation to cost.
Warehouse Facility
Ask if the company has good temporary storage or warehouse facilities in case you don't have immediate arrangements to offload and ship them to your new premises, particularly in the event that you reach your destination later than your goods.
In some cases, when relocating to a new country, you may have to warehouse your cargo until you have found a suitable accommodation. Most companies have a stated time period in which no storage fees will accrue so make sure to ask your shipping company in advance.
Knowing the Jargon used by Shipping Companies
If you are thinking of moving, it would help to know some of the jargon used by the shipping companies.
While you are not expected to be an expert in the shipping of household goods, or vehicles, it will help to be familiar with (or at least aware of) some of the terms such as Accessorial Charges, Bill of Lading, Binding Estimate, Booker, Bulky Article, Carrier, Carrier Liability, Cash on Delivery (COD), Cartons, Consignee, Consignor, Containerization, Delivery Date, Demurrage, Inventory (INV), Storage-In-Transit, Tariff, containers, shipping container lengths, FTL/HTL and so on.
In all likelihood, a good international moving company will ensure that you are not bombarded with too much information and at the least clearly communicate what everything means. Afterall, your main priority would be to get settled in the new location and leave the relocation worries to the shipping company you've chosen.
10 Tips for Selecting an Overseas Moving Company
We've all heard of horror stories of friends not receiving their belongings on time and ships delivering too early or too late. With everything considered, you need to make an educated decision so we've made also made this list. Here are some tips for you when choosing a cargo shipping company to move your goods overseas.
Tip # 1: Registration and Licensing
An important factor is to make sure your overseas shipping company is fully compliant within the moving industry. The best way to find this out is to simply ask about their registration and licensing. A shipping company that is professional and reputable will be able to provide their NVOCC number with the Department of Maritime commission.
If it is a domestic shipping company functioning within the United States, the company must be registered with the states in which it delivers. Also, when choosing your moving company, make sure that there is a physical business address even if it seems rather obvious.
Check whether the mover is duly licensed or authorized by the Federal Department of Transportation, Public Utilities Commission, the Better Business Bureau or Bureau of Consumer Affairs' equivalent departments.
Professional shipping companies are usually enrolled as members of state registered movers associations such as the American Moving & Storage Association.
They are usually associated with FIDI or RIM, which are some of the reputable associations that quality movers want to be affiliated with and tend to have a very good level of customer service.
Tip # 2:  Cargo Loading Services
There are a lot of different cargo loading services that each company offers. When choosing the best company to move your items, ask about the loading services offered. Slideshare.com offers many documents about cargo moving and lists three main types of loading services.
The first is known as warehouse loading. With this option the shipping company will pack and load your items into a container after you have packed them yourself and deliver them to the mover's warehouse.
The second type of loading service is a live load. A container is dropped at your home or business address and you have a specific period of time, usually a few hours for a live load to pack all your belongings yourself before the container is sealed and returned to the port for loading on the vessel for sailing. This service is time bound and you aren't usually given much time to pack.
The last loading option is a "drop and pull service" which can be more expensive but less stressful. The container is dropped off at your home and you are given a few days to load and pack your items. The shipping company of choice will come and pick up your container at a later date which you agree upon when booking.
Tip # 3: Variety of Container Size and Capacity
Depending on what you really want to ship and what you can leave behind will determine what size container will be needed for your mover. Most moving companies offer the usual container sizes of a 20ft or a 40ft shipping container.
Household goods and vehicles are usually shipped this way. If you have items that are perishable you may need a temperature controlled container. These are known as 'reefers' in the industry.
For items such as rare or expensive paintings, rare furniture or antique pictures that may be affected by heat, you can invest in a reefer container which is refrigerated and will keep everything in perfect condition. But most personal effects moves, can be facilitated by using standard containers.
Tip # 4:  Cargo Tracking Tools
With technological advances, cargo tracking tools are available to customers readily. Whether you're given an online code to see where your ship is in transit or you receive emails updating you on your item's travels, you'll want to ask about this tracking option.
Some cargo shipping companies may charge an additional fee for this service while others include it in the overall price. Ask lots of questions about the company's form of tracking.
Tip # 5: The Overall Price
As touched upon earlier, some cargo shipping companies may offer one price for ocean freight and then list additional charges thereafter and this may seem that additional fees are being added on.
Always compare the overall price of the items shipped and ask about fees such as fuel, insurance, tracking etc. Hidden fees should be made available to you and you can ask for a breakdown of the overall price before you choose to use a company's services.
Tip # 6:  Industrial Standards
There are industrial standards to be met when shipping items overseas. You want to make sure that your company adheres to laws and regulations stated by the government in which you are having your goods received.
It's important that the freight forwarder you choose to pack, wrap and ship, has a network of professional agents around the globe who can handle the container when it arrives at its final destination.
They will be the ones who will unpack and deliver your goods to you new home. That's a very important part of the process.
NOTE: We recommend that you ask for the shipping company's overseas agents information, that way you can do your own research or contact them directly.
Tip # 7:  Safety Records
Your cargo will go with one of the major steamship lines, and for the most part, they are all long standing companies within the industry and have reliable vessels and operating procedures.
Ask your international moving company who they will use for shipping your goods. Have any of their ships encountered safety issues? You can go to a company's website and see their safety certifications and others quite easily.
Tip # 8: Insurance
Although most shipping companies offer insurance on your goods from the beginning to the end of the voyage, it's vital to ask this question. If something was to go wrong with the ship, you need to know that your items are covered.
Usually the main shipping companies cover the minimum insurance of $0.60 per pound. If you would like more insurance on your goods you can purchase supplemental insurance.
You can look around for the best insurance rates for your items and compare the companies. Your shipping cargo company may also suggest an insurance company it partners with or be able to offer you rates themselves.
Tip # 9: Holding Facilities Provided
We touched on this earlier but what if your goods arrive earlier than planned or later? Where will they end up and what is the charge? Asking this question can save you a lot of money and hassle.
It's important to know that if your container arrives at the location earlier if you will have to pay for it to be held or if it's worked into the overall price of the service. If there is a chance you may be late picking up your items also ask what the fee is and where you will pick them up at. If your items need to be refrigerated, ask if the holding facilities are capable to facilitate this. If your goods are heat susceptible ask about air conditioning and such.
Tip # 10:  Discounts
Last but not least, look for discounts when comparing cargo shipping companies. There are always promotions going on and sometimes it only takes asking for a deal to get one. Cargo shipping is a business and there's always room for some negotiation.
If there is a specific company you would like to go with, ask for a matching deal. Comparing is a great consumer power and you are bound to end up paying less if you simply ask. You may also want to try different dates if you are flexible. Different weeks of travel may be lower in cost.
Key Questions to Ask Your Shipping Company
These questions overlap and go hand in hand with the tips above but they're important nonetheless. If you are planning to work with an international shipping service, your lack of information on the logistics of both scenarios will probably leave you feeling a bit overwhelmed.
When you get to the point where you are ready to commit to using a particular international moving company, you should put together a list of questions to ask—that way you can feel even more confident about the job at hand.
Before you start making calls, use these questions as a potential starting point for your interview process.
Here are the questions you should ask your freight company:
Can the quoted rate change?
Many times a freight company will send a quote that is valid for 30 days. Your move date may be further down the line than that. The company may be unable to provide an exact rate until after the job is complete. It is important that you understand how much "wiggle room" there is in the quote so that you will not be surprised.
Are there any additional fees?
Some freight forwarding companies quotes are broken down into separate cost sections and may have "hidden" fees. Find out the total of any extra moving fees you will pay ahead of time so you can better budget for the whole move.
What form of payment do you accept?
This is especially important if you are working with someone overseas. What currency can you pay in and are there bank or credit card charges payable?
What else can I ship via the freight service I choose?
Some companies will allow you to ship certain items, but not others. Sometimes the requirements are put in place because of laws in the country of destination. It is important you understand what you can and cannot ship, so learn about the customs of the destination country.
Who will be handling your freight?
Will the moving service provider you contract handle the shipment from drop off until destination? It may be that the company works with other companies to handle some of the process. If this is the case, you may want to know this ahead of time.
How long will the shipping process take?
It may not be possible for the company to give you an exact handling and shipping time frame, but it is nice to have a good idea of how long it will take.
This will all depend on the origin port, the destination country and city and the frequency of the shipments to that destination. Discuss this in great detail with your international shipping expert who will advise you so you can prepare for the packing at origin and the unpack at the other end.
Is insurance included?
Will you need to purchase additional insurance to make certain you are protected in the case of damage or loss, or is this already included? If you are shipping anything of value, this is especially important. You should itemize all expensive items and precious belongings so they are listed on the insurance policy separately.
These are just a few of the questions you may want answers to before you sign a contract for your overseas moving service.
If you have any further questions, feel free to contact the shipping experts at Schumacher Cargo.
Written by Damien Shields