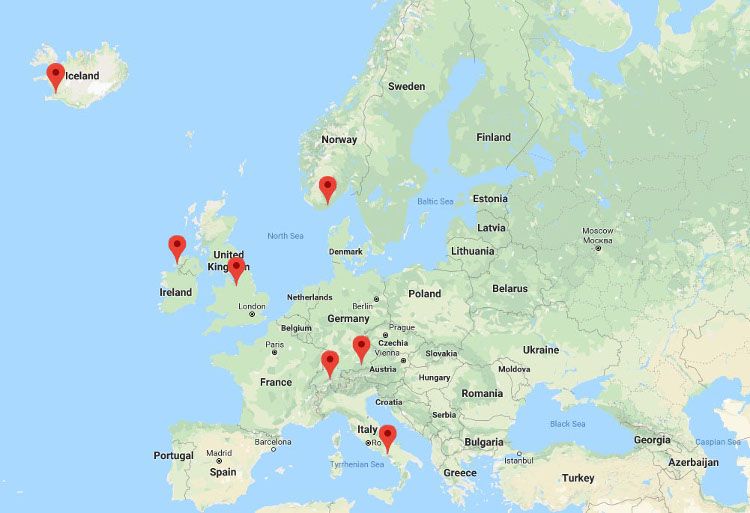 Touring Europe via Motorcycle
Traveling across Europe is an activity found on bucket lists all over the world. And it's no surprise why: the continent is rich in history, culture and landscapes. With this many neighboring countries so close to each other, traveling throughout the continent is relatively easy.
Instead of backpacking through Europe, though, consider experiencing this amazing continent all from the back of your motorcycle. By traveling on a motorcycle, you get a 360-degree experience unlike what you would in a car or a bus. You'll experience the twists and turns of Europe's valleys and mountains, as well as be part of a community that also loves touring via motorcycle.
Take a look at our guide for motorcycle tours in Europe below!
Tips for Planning a Motorcycle Trip in Europe:
Before your trip, take your motorcycle in for a complete service. Make sure everything is operating the way it should. The last thing you want is to be stranded in the middle of the Alps because your motorcycle needs a repair.
Since Europe stretches from the Arctic Circle down to Africa, the weather across the continent varies by geographical region and time of year. Think about when and where you'll be traveling, then pack and plan appropriately.
Pack lightly and efficiently. Have an emergency bag packed separately from the rest of your items, and secure it in an easily accessible spot so that you can grab it immediately should anything happen.
Booking through a tour company relieves the pressure of having to plan and arrange your trip yourself. If you don't want to book through a company and prefer the do-it-yourself approach, check out the suggested routes below.
Motorcycling Routes through Europe by Region
Europe is a large continent, so there are many great motorcycle trails in different regions. Each one has unique sights and are all amazing routes in their own rights. See which route interests you the most.
Trans European Trail
The Trans European Trail stretches for 21,000 miles (34,000 kilometers), coursing all throughout the continent. Traveling this path could essentially be your one stop shop for seeing all of Europe. It's cared after solely by volunteers named "Linesmen," who each represent their respective country and the part of the road coursing through it.
The British Isles
The Cat and Fiddle Run, United Kingdom
While it's technically named the A537 Buxton New Road, the Cat and Fiddle Run gets its nickname after a pub of the same name found along the route. The road is about 12.5 miles long, with most of it cutting through the Peak District National Park. Be careful, though, as it's known as Britain's most dangerous road because of the sharp drops and bends along the way.
Wild Atlantic Way, Ireland
Its total distance of 1,553 miles (2,500 kilometers) makes it the longest coastal route in the world. Travel along Ireland's Atlantic coast, and you'll go through six regions of the Emerald Isle. Taste the salty air on this scenic route featuring beaches, cliffs and coastal towns.
Nordic Region
Kristiansand to Bergen, Norway
Travel along Norway's southern region on this 273-mile (468 kilometers) long journey. Before heading out, consider the time of year you're traveling; winter in Norway can last from September to June, giving you a limited window of bearable traveling. However, it's totally worth it for the incredible fjords.
The Iceland Ring Road, Iceland
This 828-mile loop takes you around the outer edges of Iceland. Plan to spend about seven days to see all that Iceland has to offer: volcanoes, icebergs, waterfalls, the Northern Lights and more amazing sights.
Mediterranean
Amalfi Coast Road, Italy
This 446-mile long road is also called "The Road of a Thousand Bends" for its crazy dips, climbs and turns. This area was named a UNESCO World Heritage Site as a cultural landscape in 1997. It's advised to visit in the off-season because the summer traffic can be horrendous.
The Alps
Alpine Road, Germany
The German Alpine Road, or "Alpenstrasse," is about 280 miles (450 kilometers) of road passing through incredible landscapes. You'll see mountains, farmland, lakes, valleys, meadows, castles and so much more on this trek.
Furka Pass, Switzerland
One of the highest mountain passes of the Alps, this pass is featured in the car chase scene in James Bond's Goldfinger. More than 250,000 people cross the pass each year in cars, motorcycles, train and bus. Switchbacks, glaciers, and the threat of landslides, avalanches and heavy snowfalls make this pass one of the most adrenaline-inducing rides in the world.
Ship Your Motorcycle to Europe with Schumacher Cargo Logistics
Ready to hit the road? Schumacher Cargo Logistics offers the best services and rates for shipping to Europe. Check out our page on shipping your motorcycle to Europe. With a multitude of ports throughout the continent, all you have to do is decide where to go! To get started, request a free online estimate or talk to one of our specialists at 562-408-6677 or toll-free at 800-599-0190.