Advice to Help you Prepare Transport your Fine Artwork Overseas
We have compiled a list of fine art international shipping tips to help you plan and prepare better for moving your prized possessions. Fine art entities like paintings, sculptures, crafts, and antiques need to be handled with care. Shipping art overseas is challenging at times, so work with Schumacher, the premier international shipper.
Read our guide below on how to ship art internationally and start your shipment today!
Countries like France, UK, Italy and Germany have different international customs rules and regulations. Global shipping for fine art involves various nuances which one needs to be aware of. Fine art handling requires knowledge about various aspects like packing tips, insurance details, shipping costs, shipping methods and much more.
Fine Art Packing Tips
Following is a checklist of things to do when packing to ensure there is no damage during international art shipping:
Inspect the object for any scratches, damages, wear and tear or blemishes and make a note.
Clean the artwork before preparing it for packing and shipping.
Remember to pack the artwork using only the recommended fine art shipping boxes.
Learn about the different types of packing materials to be used depending upon the type of artwork. Some could use a puncture proof plastic, or a liner filled box.
For paintings, use protective tape over the glass frames, paper to wrap the entire painting, padding for the corners, and tie it securely.
For sculptures and antiques, remember to choose an appropriate sized box. Allowing the object to shift inside the box will make it more prone to damages.
Use bubble wrap for antiques, crafts and sculptures to ensure they are safe from pressure.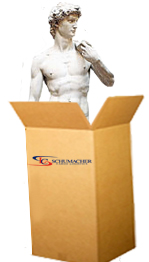 International Art Shipping Insurance
Buying fine art shipping insurance is imperative whether you are an artist, a dealer, museum owner or a collector. Insurance helps you cover for any trouble you might encounter during the fine art international shipping process. Remember to evaluate and get insurance which covers for the full price of your artwork. One might want the professional movers pack the artwork for you to ensure there are no mistakes or regrets later.
How Much Does it Cost to Ship Art Internationally
One of the myths people have is that the shipping cost varies based on the volume and distance. Could be true or could not be true. One of the methods of shipping includes art shuttles. These are insurable carriers with trained personnel for handling fine art and with a fleet of trucks apt for shipping fine art.
Some factors to understand when it comes to the shipping costs:
Cost will vary upon the location of your point of departure and the destination.
Easy to reach areas might have lesser costs than locations which are hard to reach by.
Art shuttles have specific routes and schedules. If your artwork needs to be delivered off-route or requires a flexible schedule, it might cost you more.
Special handling like climate controlled trucks will surely bump up the quote.
If you opt for the trained crew to do the packing for your artwork that will be an additional cost to your estimate.
One could choose from many methods of shipping fine art internationally. That includes shipping by air or by an ocean route. Each method has its own pros and cons. Find out more details about ocean freight versus air freight in this article.
Keep in mind art import customs when shipping
Gaining knowledge about the international customs policies is beneficial to set your expectations and avoid any last minute surprises. Since you are shipping artwork internationally it is mandatory to understand the rules and regulations governing overseas borders and customs. The checklist would be to know about :
Duties and taxes applicable in your home country and the destination country.
Any specific act, rule or section pertaining to shipping artwork internationally.
Customs documentation like invoices and forms to be included in the shipment.
Penalties, miscellaneous charges, port fees etc.
Use Schumacher to Ship Your Art Internationally
Reviewing these fine art international shipping tips will hopefully make you feel more confident. Now that you understand the nuances of shipping fine art internationally, what are you waiting for? Go ahead and give SCL a call at 800-599-0190 or use our online form below to request a free fine art international shipping quote!
International Art Shipping Quote Form
SCL International Art Shipper Review