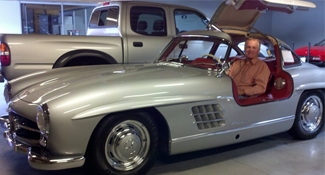 About Robert Delmotte
Robert is Schumacher Cargo's resident European Classic Car Specialist.
Robert grew up in Tongeren, Belgium, near the German and Dutch borders. He began his illustrious career in sales with d'Ieteren Porsche Brussels and has sold Porsches throughout Europe.
As a result, Robert is fluent in many languages, including French, German, Dutch, English and Spanish.
In the early 80s, Robert came to the United States to start up and manage an exotic car dealership in Beverly Hills, California.
He later moved on to own and manage two boutique stores of exotic automobiles in Laguna Beach and Corona Del Mar of nearby Orange County, California.
A recent addition to the Schumacher team, Robert focuses his efforts on Global Imports and Export of European Classic Cars.
European classic car inspections in Southern California (Santa Barbara to San Diego) can be professionally inspected by him in person, for a flat rate of $650.00.
Our extensive 14 Point Pre-Purchase Checklist report, containing professional photographs, reports and test drive findings, is a must for your next investment and a wise move for any classic car buyer who cannot be there themselves.
Available to travel throughout the USA, call or email for further details 562-408-6633.
Please feel free to contact Robert at [email protected] for your pre-purchase inspections.