Not only is Houston one of the largest cities in Texas, it is also one of the one of the fastest growing cities. Drive downtown, and you might be intimidated by the skyscrapers. One of the most popular things to do there is to go downtown near the Minute Maid Park and enjoy a day by the field. Check out some of our favorite things to do in downtown Houston below.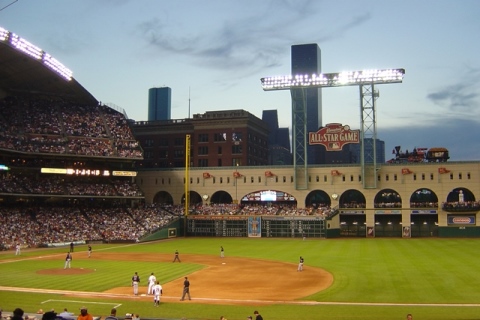 Getting Where You Need to Go
In a city like NYC, you usually take a cab, right? Well that's naturally an option for Houston along with the Tram, but since we are talking about Texas here, many locals drive.
Parts of suburban Houston TX and the greater metropolitan areas are rural and spread out. In this case, it makes sense to focus on the downtown area which is full of things to do, and let's get to talking about some of them.
Minute Maid Park
If you are in Houston during the MLB season, we absolutely recommend you go to Minute Maid Park. And yes, to get to the home of the Astros, you have to go through downtown Houston.
In left field, the box seats are called the Crawford Box. They are some of the more expensive general tickets, but none of the general tickets are too pricey. If you were to choose to sit there, you are right behind the left field wall. What better place than to try and catch your first home run ball?
Enjoying downtown Houston is one thing you will want to do outside of just going to the ballpark there. If you don't want to handle your own navigation, then you can certainly hand off those duties. You can even take a guided tour of Houston if you want to make it really easy.
Food
If you decide to just do a full day at the ballpark, then make sure and stop by Jackson Street Barbecue which is right next to the stadium. It is one of the many places with great barbecue food in Houston and generally is pretty busy before the games due to how close it is.
Quick Stops on the Way to the Ballpark
Now, let's look at some of the more tourist things to do in Houston when visiting. There are so many things to do in that city that it will make your head spin.
Here are two quick stops you can make while downtown.
The Downtown Aquarium-Houston
You don't need to be an ocean lover to enjoy the aquarium. It features a variety of different sea animals like sharks and rays as well as different tanks with different ecosystems.
Buffalo Bayou Park
The park is a great escape from the High-rises and city turmoil. So if you struggle with downtown crowds then it may be the perfect stop to calm yourself before heading towards Minute Maid Park.
To learn more about our company and what we do visit our page!