Relocating to Australia from US? Learn about the Australia health care system!
Australia health care programs are some of the best in the world. For people moving to Australia, it is imperative to gain an insight into Australian health care insurance policies. This will help you plan your medical coverage better.
Let's jump right into the comparison of Australian health care programs versus the American health care programs. The following table illustrates some of the key differences between the both:
Australia Health Care vs USA
Healthcare Vectors

Australia

US

Health care funding
(Total per capita)

$2211

$4631

Spending per person

$1714

$4271

Physicians per 1000 people

2.5

2.3

Hospital beds per 1000 people

7.4

3.4

Access to sanitation

100%

100%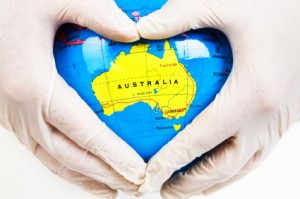 Australian health care insurances are offered by private and public systems. The health care system which is run by the Australian government is called Medicare. This is applicable across all the states. If you are planning to
move to Australia,
one of the foremost things to do would be to register for this Medicare system. Private health care providers also exist which offer a variety of programs for citizens to select from. If you are
moving to Australia for a job
or a career change, talk to your employer first about your options.
Moving overseas is a challenging task. It requires adapting to an entirely new environment. A different culture, new establishments and phasing into a new health care system are some of the few aspects of relocating to a new place. Enrolling in the new health care program is one of the most important and usually the first item on a to-do list.
Speaking about a checklist, following is one which will help you plan your course of action towards enrolling into the Australian health care program efficiently:
Australian Health Care Enrollment Checklist
Remember to maintain medical records for each family member
Do not forget immunization certificates and other pertaining paperwork
Go online and learn about various Australian health care systems
Explore different options and gain insight into which plan suits you better
Talk to a Medicare expert to learn more about the government plans
If you would want to opt for a private health care provider try to learn about the costs and compare them to different plans
Once enrolled, remember to maintain all the records from the older system plus the new system
While researching various Australian health care programs also ensure each family members' eligibility to avoid any late surprises. Most of the health care systems work in a similar manner but make a note of any significant differences.
If you are ready to move to Australia fill out our Online Quote Form and get started today!