Moving overseas with your car from the US? Follow these pointers!
Moving overseas requires a lot of planning. Nearly everything is different and requires adjustment on your part. Depending on where you go, you may even have to speak and write a different language! One aspect of moving overseas that you may not have given much thought to is driving. Are you planning to own a car while you live outside the United States? If so, are you driving your American car? If you are, there are many things you need to keep in mind—not only to keep yourself safe, but also to avoid facing tickets or other penalties from local law enforcement. Keep these tips in mind when you are driving an American car overseas and you will be much less likely to run into trouble.

Obtain what is called an International Driving Permit. Carry this in addition to your United States state-issued driver's license.
Check into the minimum and possible maximum driving age of any country you visit or live in—it can be dramatically different than in the United States.
Some roads in other countries require permits, rather than relying on tollbooths. Those who drive them without a permit may face fines.
Seat belt laws are in effect in many countries. Even those areas that do not require it will recommend it, just like in the United States.
Check into laws about blinkers, and lights. Some countries have rules about flashing lights before passing, honking horns when taking sharp corners, and other similar rules.
If you are moving to a country where drivers drive on the left side of the road, practice driving in a rural or less-populated area before you attempt driving in busy, city traffic.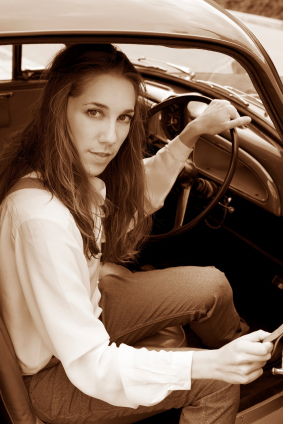 Do not rely on just a GPS to find your way. Many times these devices are not as accurate as they are in the United States. A good map can help you find your destination.
Find out if it is legal to drive your American car in the country you are living or traveling in—it could be that you will need to purchase a local-friendly vehicle.
Check into some of the "weird" laws on the books in certain countries. For example, you must carry a breathalyzer in France, in Scandinavia you must always use headlights and in Belarus you can't drive a dirty car!
As you can see, there is a lot to think about when you decide to drive overseas. If you have further questions, do not be afraid to contact the department of transportation or similar agency in the country of which you are visiting or moving to. Taking these precautions can save you a lot of trouble and expense later down the road.