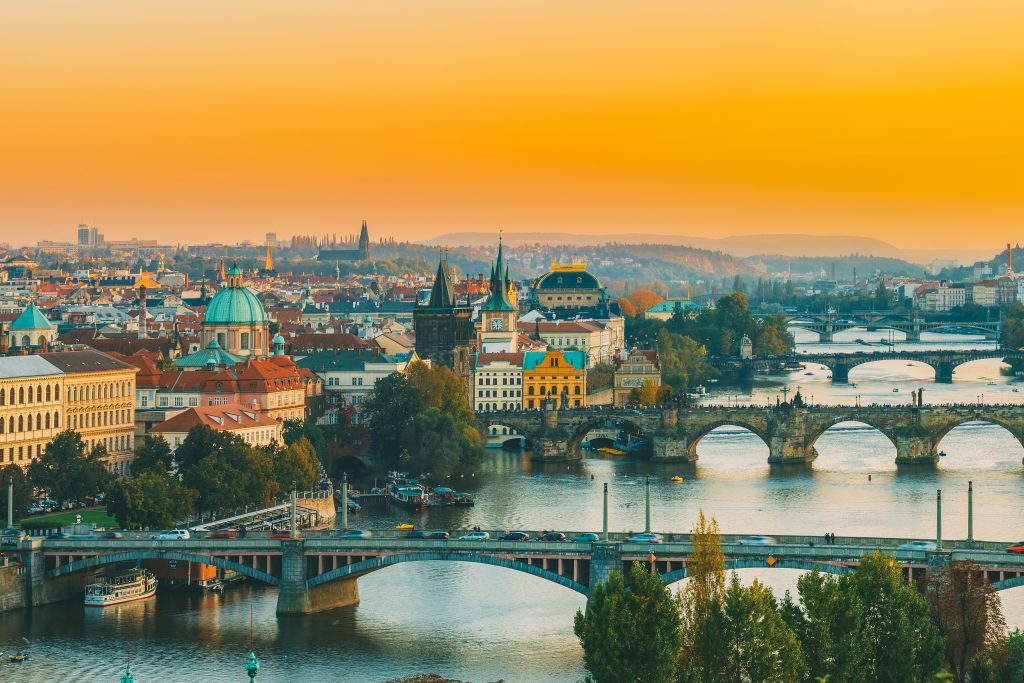 Because the Czech Republic is a modernized country with high living standards and an enhanced economy, thousands of people immigrate there yearly. If you are considering moving to this beautifully hilly country – the 7th safest country in the world – you should know a few things first. With the following information, you'll be ready to pack your bags in no time!
The Cost of Living in Czechia
Did you know the cost of living in the Czech Republic is about 46% less than in the United States?
Renting a one-bedroom city apartment will cost about $670, while a similar apartment will run approximately $1,600 in the US. For a three-bedroom city apartment, you will pay about $1,070 monthly. If you live outside city limits, your rental costs should be less.
While the overall cost of living is lower in Czechia, utilities typically cost about 25% more than in the United States. Gasoline is more expensive too, coming in at about 49% higher.
Here are a few more cost comparisons (the Czech Republic vs. the United States):
Restaurant prices are 49% lower
Groceries are 46% lower
Movie tickets are 32% lower
Childcare is 62% lower
A pair of jeans is 75% higher
While you will pay less for most items in the Czech Republic, you will probably also earn less – the average monthly net salary is 62% lower than in the United States.
What is Needed to Move to the Czech Republic from the US?
Passport
When you are preparing to move to the Czech Republic, the first thing you will need is a passport. This official document is essential and allows you to travel to and from foreign countries. As you plan your relocation, check your passport's expiration date to ensure it is current.
Making Plans for Your Upcoming Move
Moving to an international country can sometimes feel overwhelming, but it doesn't have to. One way to remove unnecessary stress is by hiring a trustworthy transport company like Schumacher Cargo Logistics.
Cargo ships transport about 80% of the world's goods, so shipping by sea is a tried-and-true method. Your treasured heirlooms, household items, and vehicles will be in good hands when shipped across the ocean.
When you are packed and ready to go, your transport company will pick up your items and wrap them safely in preparation for the journey. After transportation, your shipment will pass through Czech Republic customs, and then it will be delivered to your new home. It's that easy!
Entering the Czech Republic
You must register your address at a Ministry of Interior Office or the Foreign Police Department within three days of arriving in the country. United States citizens can stay in Czechia for up to 90 days without a visa; however, if you are moving to the country, you will need to obtain a visa or residence permit.
If you plan to live in the Czech Republic for less than one year, you should apply for a long-term visa. After you complete your application, you may be invited for an interview.
When you apply for your visa, be prepared to provide a few things:
Current passport (travel document)
Recent photograph
Proof of accommodation in Czechia
Document confirming purpose of the stay
Proof of adequate funds
Possible background check
You should submit only original documents or certified copies. Typically, applicants are notified via email when the visa is approved. Once approved, you must provide proof of travel health insurance.
If you plan to live in the Czech Republic for longer than one year, you will need a long-term residence permit. When applying, you will submit the same documents that are requested for long-term visas.
Quick note: Permanent residence permits are reserved for those who have lived in the country for more than five years and can pass a Czech language test. Additionally, if you decide to apply for citizenship, you must reside in Czechia for at least five years, pass a Czech language test, and pass a history/culture test.
Fascinating Local Culture in the Czech Republic
The Czech Republic is rich in culture, traditions, principles, and history.
Czechs value family ahead of work, and employers are usually sensitive to family needs. In Czechia, you will see many traditional families where the mother stays home, and the father works.
Families enjoy taking vacations together: National parks and Mediterranean beaches are popular destinations. Outdoor activities such as biking, gardening, and skiing are popular.
Most Czechs are conservative, resourceful, and frugal. However, they enjoy their beer – the Czech Republic ranks the highest in beer consumption in the world! It is not usual for Czechs to have a beer in the morning and wine in the evening.
You will find many churches in Prague, but most citizens are not religious. They are, however, mannerly and teach their children to be well-behaved.
Here are five more remarkable facts about the Czech Republic:
Many Czechs love to hunt mushrooms in the fall; sometimes, these hunts can be competitive.
The country's unemployment rate is the lowest in Europe.
Ice hockey is the most popular sport – the men's national team is a worldwide powerhouse.
Czechia has the most castles in Europe.
Mission Impossible, Yentl, The Illusionist, Les Misérables, and Casino Royale were filmed in Prague, the country's capital.