Written by Jason Lowder
Whether gliding through canals on a gondola or relaxing on the front porch of your houseboat, boats offer all sorts of ways to see and get to know a city. So if you're considering taking an exploratory cruise or living the life aquatic, these are the best cities in which to do so.
Here are…
The Top Cities to Explore By Boat
Venice, Italy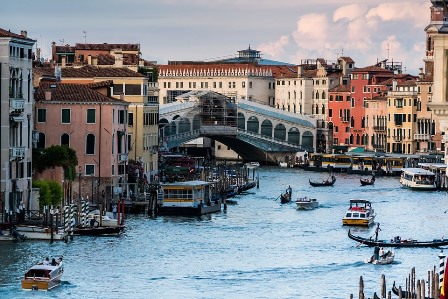 It goes without saying that Venice would have to be the first on this list. When you've got a city with more waterways than streets it kind of has to be at number one for aquatic city exploration.
New York City, NY
With two major rivers, the Long Island Sound and the Atlantic Ocean all at this iconic North American city's doorstep, you've got an abundance of waterways for small and mid-size vessels to help you explore this great city. Zip up and down the East River or the Hudson to take in Manhattan's jaw-dropping skyline or visit the islands in the area such as Staten Island, Ellis Island, Liberty Island, or, of course, Long Island. Pull up to port in Red Hook, Brooklyn's oldest fishing village.
Zhouzhuang, China
Aka China's Venice, this ancient city has been in the works for over three dynasties, lining the waterways that make up the town's main passageways with an array of astonishing architecture.
Seattle, Washington
You know it's a big boating city when executives of Microsoft can boat to work. The prevalence of outdoor lifestyles in Seattle–including many who live aboard houseboats–makes your boat the go-to vehicle.
Vancouver, British Columbia
Vancouver is Seattle's twin-sister to the north. While both Vancouver and Seattle have great mountain-scapes, Vancouver's are a bit closer and more encapsulating.
Annapolis, MD
The fact that the US Naval Academy is housed in Annapolis should give you some indication that this is going to be a big boating city. And a great city for boat watching as well, where you could easily see a sleek new clipper followed by a Naval Destroyer or a Spanish galleon.
Hong Kong, China
Just off the South China Sea, this major Asian city also has entire communities of people who've set up residence on their boats. The Aberdeen Harbor houses the Tanka people, now the Yau Ma Tei "Boat People," who initially set up residence as typhoon refugees in 1916.
Got a question about shipping your own boat overseas? Schumacher Cargo Logistics has shipped thousands of boats internationally and can help you get yours to some of these amazing cities around the world.