You have found your dream job in the United Kingdom, you figured out your living expenses and are working to get everything in order when you realize you haven't spent time thinking through healthcare. Though you are in luck as the United Kingdom health care for expats is quite good.
All you have ever known is the American health care system which is provided by all different types of organizations. In the United Kingdom, almost all health care covers through National Health Services which uses taxation. To add on top of the confusion, you will be a U.S. expat and not a UK citizen.
Here, we have gathered some simple stepping stones to help you better understand the United Kingdom health care system and what you can expect abroad.
As An Expat, You're Automatically Covered By National Health Services
Automatically, your coverage works through NHS (National Health Services). It's important to note that your family, whether a spouse or a child, is also automatically covered by NHS.
The legislation in the United Kingdom can be found at Legislation.gov.uk and explains who is covered living in the country. Overall, anyone who is employed by a company in the UK, live in the UK, or work in the UK shouldn't be charged for healthcare and neither should anyone under them as a household.
Once you arrive in the UK, you find a general practitioner and receive a National Health Service Number. From there you can receive medication and advice from your GP (general practitioner). If there is an issue, your GP can forward you to a specialist.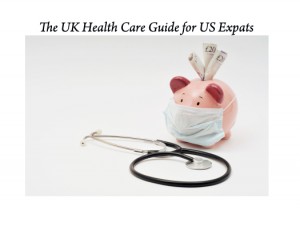 There Are Some Health Care Limitations Initially Living in the United Kingdom
For your first year of residency there may be some limitations to health care services. The initial limit is to walk-ins and emergency room visits only. Also, you can't receive specialty care free of charge for the first year.
Once you've lived as an expat in the United Kingdom for longer than a year, you can seek out a primary care physician and take further advantage of the national health care. Some expats invest in travel insurance and take out insurance that will cover specialty care in their new country until the NHS covers them.
If you have a specialty care need, you need as much care in the United States under your current insurance before traveling or moving abroad. This situation is very important with children as the United Kingdom doesn't necessarily have a concept of annual checkups.
Usually people only visit the doctor when they are sick and don't make appointments just to measure health in general. Before you set out for you new life in the UK, make a trip to your specialty doctors such as your dermatologist, dentist, or psychiatrist. It's also a good idea to get a general checkup before leaving as well.
There Are Resources For US Expats
Navigating the United Kingdom's National Health Services can be very overwhelming and confusing. It is important to connect with other expats and ask lots of questions. The UK makes it really easy to have specific questions answered by providing a lot of resources.
Download a free PDF about general practitioners called "It's Your Practice: A Patient Guide To GP Services" from www.nhs.uk. This site also explains in detail what the NHS does and how to make the most of it. Another great document to check out is The National Health Services Charges To Overseas Visitors. This document can be found at www.legislation.gov.uk. There are many expat forums online to ask questions as well and a very popular one is called Expat Focus.
There are other resources that you find while abroad so it's always a good idea to check in with the US Embassy or consulate. Once you have experienced national United Kingdom health care and lived in England, you'll wish the US made our system just as easy.