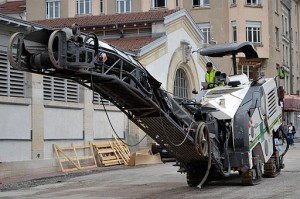 Have you ever wondered how huge machinery and other pieces of equipment are shipped overseas? The process takes a lot of careful preparation and shippers must use the proper methods of securing over-sized machinery.
Schumacher Cargo is shipping a Wirtgen 130F Asphalt Grinder from Genoa, Italy to Long Beach, California. This gigantic piece of equipment weighs 42,000lbs, is 35ft long, 9ft wide and 12ft 3in high.
Based on the dimensions, it is too large to enable shipping in a standard 40′ high cube container. The high cube container is the most common container size used for vehicles, but in in this instance, it just isn't big enough!
After weighing all options and analyzing the cost-effectiveness, we elected to ship this unit via a 40′ flat-rack that will be shipped on a container vessel. (See below for an idea of what a flat-rack container looks like.)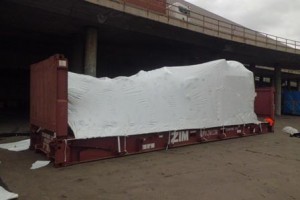 To safeguard against the elements (wind, rain, salt seawater, etc.), we make sure the unit is properly lashed and secured followed by shrink wrapping/barging and netting.
If you fail to take the steps listed above, chances are that you'll not only end up with structural damage but internal damage to the machine as well.
Once the ship arrives into the port of Long Beach, we will bring the flat-rack to our unloading yard, which has specialized equipment to handle such cargo.
IMPORTANT: When shipping any cargo, be it vehicles or over-sized equipment and machinery like this, make sure that the company handling the shipment on the receiving end has the PROPER equipment to handle the shipment type or you'll end up with damaged goods.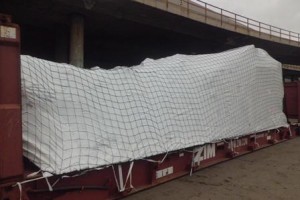 To bring the asphalt grinder from the port to the unloading yard, we'll acquire the permits first, then unload the unit and re-load it on a low-boy truck to get it delivered to the client's premises.
Just another day in the life of Schumacher Cargo!