Tips to help you prepare your RV or motorhome for overseas shipping
Overseas RV shipping companies are hard to find, especially with the element of expertise it requires to ship and transfer such a large vehicle.
They come in all sorts of shapes, sizes and features, which add to the challenge of shipping it internationally. One might feel overwhelmed with the thought of shipping a RV overseas.
But if you plan in advance, prepare yourself for the task and choose the right overseas shippers, you will be in good shape.

What you need to know about international RV shipping
Remember to identify the type of RV you own since different vehicles might have different constraints. Some of the common types include – Pop-up Campers, Travel Trailers, Fifth Wheel Trailers, Mini Motor homes and many more.
The following basic checklist will help you get organized to start the transport process:
Check which particular category your RV or motorhome falls into and if there are any special requirements
Make sure you have all of your RV's paperwork including the insurance documents
Check the rules and regulations of your destination country specifically for RVs. (May be called Caravans in some countries)
Check for the RV standards that need to be met as per the rules and regulations
Gain an understanding about the requirements and costs of shipping an RV overseas
Before you can hand over your RV to the shipping company, there is quite a bit of preparation that needs to be done.
As the RV owner, you need to ensure your vehicle is safe for a long distance transport.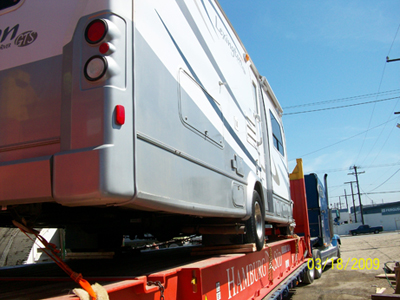 RV Shipping Preparation for Overseas Transport
Walking through certain guidelines and checklists will decrease the chances of any damages or issues during the international transport.
We thus summarize some of the common aspects you might want to review from the list below:
RV Interiors
Make sure to lock down all the windows, cabinets and doors. You can use a tape to ensure they do not open up due to heavy movement.
Do not leave anything hanging from the hood or on the walls of the RV.
Remember to unplug all electrical appliances, disconnect the power supplies and gas connections.
RV Exteriors
Ensure all the required lights are functional.

Remember to secure the doors and any other pop-ups.
RV Mechanics
Run through any possible leakages for oil and other fluids.
Have RV/Motor Home inspected for battery readings, correct installations of the tow bar and other mechanical parts.
RV Safety Measures
Check for brakes and the required air pressure for air-brakes.
Check the tires for any visible cracks or wear and tear.
Miscellaneous Tips and Suggestions
Make sure you hand over the full set of keys over to your motor home shipping company.
Provide the movers with the full list of instructions for any emergencies.
Remember to carefully review documentation for insurance, shippers' expectations, terms and conditions, rules and any other regulations specific to your RV type.
For more information about shipping an RV overseas, visit our gallery to see how it's done.
You can also call us for any additional questions or get a free shipping estimate for your RV or motor home.