Written by Jason Lowder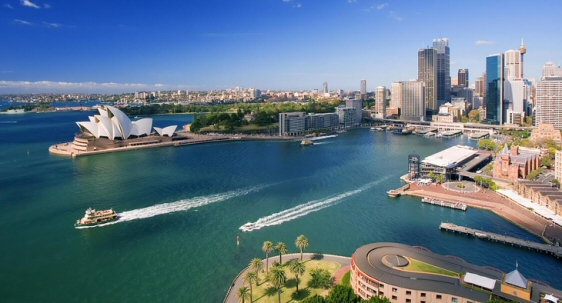 The world's happiest industrialized nation
For the third year running, Australia has been revealed as the world's happiest industrialized nation based on criteria including satisfaction, work-life balance, income and housing.
So what's Australia's secret besides the alluring backdrop of sun and surf, or great year-round climate and famous outdoor Aussie lifestyle that makes Australia one of the happiest places on the planet?
A Solid Economy
Australia recently celebrated it's 21st consecutive year of economic growth. Think about it, no economic recession for 21 years. No other developed nation in the world demonstrates the underlying resilience of the state in the face of challenging conditions.
Australia is moving ahead consistently showing solid growth.  According to the International Monetary Fund, Australia is set to be the best performing major economy in the world over the next two year.
Australia is blessed with natural resources like, iron ore, coal and gas which are key contributors to the countries economic success. China currently is Australia's largest trade partner, largest source of imports and largest export destination.
Low Unemployment Rate
Unemployment in Australia is at near-record lows. The economy has been well supported by the natural resources industry with a multi-billion dollar investment in the mining industry which has created tens of thousands of jobs.
The best paying sectors are mining, consulting, engineering and IT.
Australia is the highest rated when it comes to minimum wages. Australian taxes are higher than U.S. taxes, but salaries are much higher, too. The minimum wage is nearly $16 an hour.
Free markets
As a trading nation, the development of free trade agreements has played a huge role in opening new markets, building jobs and adding to exports.
Easy Access
Australia is easily accessible from all corners of the globe. There are a number of major international airports with regular flights.
It's a perfect base of operations if you want to make the jump to exotic places such as Thailand, Japan, or China, to name a few.
Quality of Life
Australian cities were ranked in the Top-10 most livable cities worldwide in a study by The Economist.
Melbourne has been ranked the most livable city in the world for 2 years running now. Australia scored points for its low crime rate, quality of infrastructure, high quality of medical care, public services and transportation.
Nature
No doubt Australia is home to some of the most beautiful landscapes in the world. If you're thinking it's all deserts and outback, you're only scratching  the surface of the incredible variety of climates and ecosystems that Australia has to offer. Beaches, rain forests, ski resorts??  Yes, if you love outdoors, you are in for a treat.
These are just a few highlights of why Australia is one of the most popular destinations. Have you recently moved to Australia? Are you thinking about it?
We can help you with that.
What are some of the things that have enticed you to make the move to the land down under?