The Cost of Living in Norway
Considering an overseas move to Norway? Pensive about the challenges that lie ahead, not to mention the uncharted territory that you are think of calling your next home?
First, let's find out what to expect in terms of the cost of living.

Having decided to make an international move to a place like Norway, this decision might spike up your spending a bit.
It is not a bad idea to understand and get a baseline about the type of expenses, comparisons with your current situation in the US and a benchmark evaluation of the living costs in Norway.
It always helps to set your expectations right, plan in advance and be prepared with a contingency plan about how one should project, protect and manage their savings in a foreign country.
What factors to consider?
One of the most difficult aspects of moving to an international location is the financial transition for you and your family.
Adjusting to the new environment, fitting in, coping up with the cultural differences and the style of living, language barriers are some additional issues that add up. But the most important factor of adjustment is the way your savings, routine expenses and costs of living pan out.
You might encounter a different spending pattern as compared to your current one. Planning and doing a bit of research beforehand shall certainly help you be prepared for the change – good or bad! Let's see some of the factors which one might want to find data points for:
What kind of salary would you need to sustain?
What are the costs of important expenses like – Health and Education?
Would it be better to rent a place or buy a house?
What are the utility costs, transportation costs and entertainment costs?
How much does eating out, groceries and other food costs?
Collecting numbers, facts and figures pertaining to the above mentioned vectors shall certainly help you plan your approach on paper in order to settle down financially in Norway.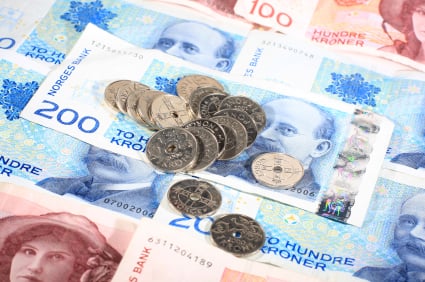 The Comparison: USA versus Norway Living Expenses
To get you started, it would be a good idea to note down most of your routine expenses incurred currently in the US, and shortlisting the ones which are inevitable to avoid.
Then comparing those same expenses in terms of what it costs to entail those in Norway would give you a good ball park estimate to play around with.
We list some of those vectors in the table below:
| | | | |
| --- | --- | --- | --- |
| Type of Expense | U.S.A | NORWAY | Approximate Difference |
| Rent Per Month (1BHK) | $900 | $1526 | +70% |
| Inexpensive Restaurant Meal | $10 | $25 | +154% |
| Monthly Transportation Pass | $65 | $104 | +60% |
| 1 Liter Gasoline | $0.98 | $2.37 | +141% |
| Monthly Utilities | $175 | $298 | +71% |
| Internet | $45 | $58 | +29% |
| Milk | $1 | $2.37 | +137% |
| Water | $1.75 | $3.39 | +94% |
| Buying an Apartment (Per Sq. Mtr.) | $1614 | $7463 | +362% |
| Total Health Expenditure Per Capita | $8233 | $5388 | -35% |
| Median Monthly Disposable Salary | $3171 | $4240 | +34% |
The above numbers should help you do your math and get your own fact sheet about the cost of living in Norway versus the current cost of staying in the US.
These figures should give you an indication of what it would be like out there in terms of your income, expenses and savings.