Move Your Household Goods Overseas from Seattle
The first step in any move abroad is finding an international moving company in Seattle. The good news is that Schumacher's Seattle international moving service has been helping people relocate to and from Seattle for over 40 years. Whether it's a commercial move, residential, or just a few boxes, we'll make relocating internationally smooth and enjoyable. As the premier international movers in Seattle, Schumacher is the right choice to take your goods anywhere in the world.
Read our page on how to move overseas from Seattle below and start your international shipment today!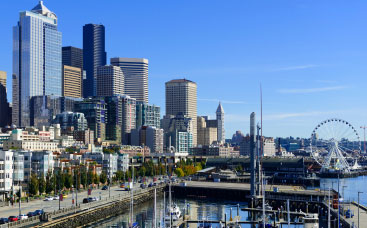 Our International Moving Services for Seattle
Because of Seattle's port, your goods can ship internationally straight from the Emerald City itself. No matter where you live in Seattle, you can take advantage of our door to door international moves. For those moving overseas from a nearby city or suburb like Kirkland, Bellevue or Renton, you'll also be able to use our door to door service. When using Schumacher's door to door international moving service, we take care of everything from the packing in Seattle to the delivery to your new home overseas.
Overview of International Moving Services:
Pickup, packing, and wrapping
Transport from residence to departure port
Professional handling, loading, and records
Customs clearance
Delivery to your door overseas
How Much Does International Shipping From Seattle Cost
Many factors affect the overall cost of your international move from Seattle. Factors such as volume and destination play the largest role in the price for the shipment. For example, a move from Seattle to Europe will have a much different cost than Asia even with everything else the same. For this reason, our representatives create custom quotes for every shipment.
Fill out our Online Form to get started on your shipment today.
How Long Will it Take to Ship My Goods from Seattle?
There are containers leaving each week to countries across the globe but some are more frequent than others. This in itself can influence expected arrival times. However, using our ocean contracts with the steam lines and own crew, we do our best to make sure every shipment reaches its final destination as soon as possible. In general, if you are moving to Australia from Seattle you can expect your cargo to be on the water for roughly three weeks. Household goods headed to Germany or the UK can take up to four weeks when leaving from our warehouse in Los Angeles. These times don't include domestic transit or consolidation periods, so it is good to add some time for the door to door move.
Don't hesitate to speak with one of our moving specialists if you have further questions about moving your home overseas from Seattle or get a free quote using our form.
Services for International Shipping from Seattle
When shipping internationally from Seattle we offer 3 main ways to ship: sole container, consolidated container, and air freight.
Consolidated Container Seattle International Moves
When shipping to popular destinations from Seattle, consolidated containers are most used international shipping service. The reason for this is you get the best value for the amount of goods you are shipping. By shipping with others going to the same destination, you only pay for the space you need rather than for a full container.
If you are moving to a less popular destination, we can still use consolidation container shipping. In this case, your goods are picked up from your home and then line hauled to Los Angeles. Most of the West Coast's goods are consolidated in LA, so shipping will be faster than from Seattle.
Sole Container Seattle International Moves
Alternatively, we also offer sole container moves from Seattle. We offer two main container sizes, 20 and 40 ft that hold 1000 and 2000 cubic feet respectively. As you approach these limits, it is better to ship via sole container as you'll be maxing out on space and makes less sense to share a container. These shipments depart faster than consolidated containers as there is no wait time for other customers. Also all sole container shipments leave out of the Port of Seattle, which decreases overall shipping time as well.
Air Freight Moves from Seattle
Air freight from Seattle is a different type of international moving service. In this case, your goods are shipped via airplane rather than in a ship. Your goods are still taken from your home, but they are taken to Seattle-Tacoma International Airport instead of the Port of Seattle. This service is the fastest way to complete a move, though the price increases to match this speed. Usually this is only used for rare items or when a company is paying for the move.
Start Your Seattle International Move with Schumacher
Since 1977, Schumacher Cargo Logistics has been one of the premier international moving companies in Seattle to destinations worldwide. With over 40 years of experience we have developed the processes and services to remove the hassle from your move overseas.
Fill out our Online Quote Form and start your move overseas today!
For any other questions on a move, destination services, or locations, call one of our household goods shipping specialists:
US 562-408-6677 // Toll Free 800-599-0190
SCL Seattle International Moving Company Reviews