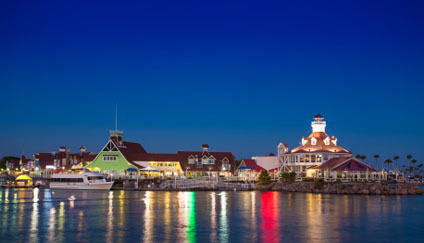 Moving Overseas from Long Beach, CA
Every international mover in the Long Beach area knows that it can be hard leaving the sunshine, beaches and nightlife behind whether you're moving from 2nd Street, Belmont Shore, downtown or neighboring Lakewood.
Combine that with the accompanied stress of any international relocation and the task can be daunting. However, as a global moving specialist, our team of international movers in Long Beach have more than three decades of experience doing the heavy lifting.
Furthermore, Long Beach/Los Angeles is home to the busiest container port in the USA meaning your household goods, furniture and other items won't need to travel hundreds of miles before departing. A couple of minutes up the 710 freeway and you are home free.
Choosing Your International Moving Company
Another important step is finding a trusted mover that has a local presence, rather than using a company whose office is hundreds of miles away and uses a third party service.
Our company headquarters are located off the 110 and 405 freeways just 25 minutes from downtown Long Beach and minutes away from the ports.
Why Move with Schumacher Cargo?
Door to door service
US customs clearance, and we prepare all documentation
Qualified global network of destination agents
This means that our moving company is with you every step of the way. We have our own fleet of moving trucks and vans so all the packing, wrapping and loading is done in-house.
Furthermore, we are a fully licensed, insured and bonded moving service as well as members of the American Moving & Storage Association, International Association of Movers, FIDI and FAIM.
So, whether you are moving to Australia, New Zealand, Europe or any other place to call home, choose an international mover that you can trust to get the job done.
Shipping Household Goods: How Long and How Much?
These are without a doubt two of the most frequently asked questions that come up during the course of an international move and they vary greatly on a shipment by shipment basis.
Some international movers in Long Beach will tell you what you want to hear rather than the actual truth. We take the other route and don't offer any cookie cutter prices because it all comes down to the service chosen, final destination and the volume of your move.
**The time frames below are only estimates as actual time frames can vary due to unforeseen obstacles
You'll also have the option to receive a free in home estimate, which is the best way to get the most accurate rate and volume. Afterwards, clients can choose whether they would like to have our movers pack and wrap items in home or deliver the household goods and furniture themselves.
Whichever option you decide to pursue, a full inventory checklist is filled out upon the arrival of your belongings; making sure our international movers handle your shipment professionally and efficiently.
To receive a free estimate from a professional international moving company, give us a call at 562-408-6677 or request your free quote online. It's that simple and we look forward to making your move from Long Beach as enjoyable as it can be!
Written by Martyn Cohen