Moving household goods overseas from Boston?
Are you planning an international move from Boston, Massachusetts with your belongings from home with you? Maybe you are finishing up work overseas and need to ship your effects back to Boston. Whatever your reason, the international moving services from Schumacher Cargo have everything you need to ensure a simple and straightforward experience.
Where are you moving to/from? Our company can help you relocate with more than 80 global destinations including Europe, Australia, New Zealand, Asia, the Middle East, and many more.
Read the steps for international moving from Boston and use our Form at the top to start your shipment today!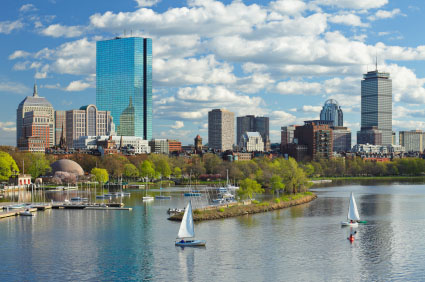 International Moving Services from Boston
Finding a trustworthy and reliable international moving company is the most important step, whether you're relocating for business or family reasons.
From Boston, you can take advantage of our door to door options. With door to door service we take care of everything from packing and wrapping at your home all the way to delivery at your new home overseas.
They'll be able to take your household goods from anywhere in the Boston area to where they need to go. Our international movers work fast and efficiently, always taking extra care. Once we have your shipment at the departure port, we'll prepare all the necessary paperwork to clear customs.
How Much Does International Moves from Boston Cost
International moving from Boston has many factors that make up the price. In this case the main components are move size and destination. As an example, a move from Boston to the UK will have a different price than to the UAE all things the same. For this reason our Boston move representatives create custom quotes for each shipment.
To get your custom quote use our Online Form
Survey of Your Goods
Once you begin working with our Boston international moving team, we can schedule a survey of your goods. In this case, one of our representatives will go to your home and calculate the exact size you are shipping in order to give you the most accurate quote possible.
How Long Does it Take to Move Household Goods?
When moving household goods from Boston, time can vary based on similar factors.
Most commonly in our consolidation service, we move your effects from Boston to New York. Then your goods must go through consolidation which time ranges based on others going to the same area. This is because the container needs to be full before it ships out to sea.
Once your goods are on the water, you can expect your shipment to sail for roughly 3-6 weeks depending on the destination. Europe being the fastest and Oceana the slowest.
Please contact one of our moving specialists for any further questions you may have regarding our overseas moving services for Boston or get a moving quote and find out how we can get you a competitive rate and make your move a great experience.
Boston International Shipping Services
For our Boston international shipping services we offer 3 modes of transport: consolidated container, full container, and air freight.
Consolidated Container Shipping from Boston
Our most popular way to move overseas from Boston is consolidated container shipping. This is because it is the most cost effective way to ship your goods. For this service, your goods are grouped together with others moving to the same area. You only need to pay for the space you use, which makes it cost effective if you don't need a full container.
Full Container Shipping from Boston
If you have more to ship or need to skip the consolidation period, we also offer full containers. Our main options are 20 and 40 foot containers that hold 1000 and 2000 cubic feet respectively. This may be more expensive if not near capacity, but for some having the goods earlier is worth the difference.
Air Freight from Boston
Air Freight is the fastest way to ship goods overseas from Boston. Though this means it is also the most expensive. Usually this service is only used for rare items or goods that must be at a show or event before a deadline. When using this service your goods depart from Boston Logan International Airport and can arrive in 2-3 weeks.
Start Your International Move from Boston with Schumacher
Fill out our Online Quote Form and start your move overseas today!
For any additional questions regarding your move, destination services or locations, call one of our household goods shipping specialists:
US 562-408-6677 // Toll Free 800-599-0190
SCLUSA Boston International Moving Reviews