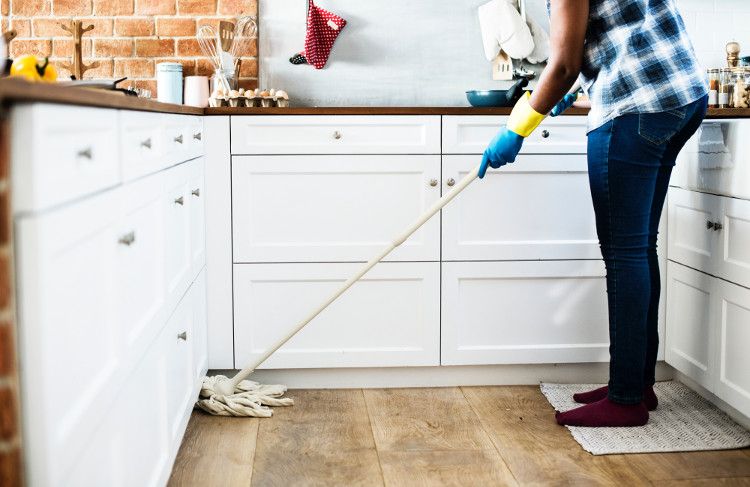 It's moving day. The heavy furniture is packed into a trailer. Your belongings are put away in boxes and loaded into the car. The place is empty, but now what? Before handing over the key, do yourself– and the next inhabitants– a favor by cleaning the home. While it may be tempting to hire someone offering move out cleaning services, it can save you a lot to DIY it.
So how clean should a house be when moving out? That depends. If you're a tenant, a deep clean could be the difference between getting your security deposit back or not. But if you're a homeowner and not on a lease, doing a final sweep is still the neighborly thing to do.
As experts in moving household goods and vehicles around the country or overseas, we've seen our fair share of clean, empty homes. Use our move out cleaning checklist as you prepare for your big move.
House Cleaning Tips
Before you get started, keep these tips in mind:
When packing, do not pack your cleaning supplies. Set those aside and clearly mark them so they aren't stashed into the moving van before you're ready.
As you work your way through the home, triple check that you've packed all your essential belongings.
Open windows to air out any smells left by cleaning supplies.
If you're on a lease, read through it very carefully for any sneaky fine print that requires certain cleaning standards.
Use microfiber towels instead of paper towels or plain rags. These are eco-friendly, reusable and streak-free.
Deep Cleaning House Checklist
Use this first checklist to get a general start on cleaning the home:
Vacuum every room. Mop any tile, linoleum or laminate floors. Apply a treatment oil to wood flooring. If the carpet is extremely dirty, rent a carpet cleaner.
Dust everything. This includes corners, fans, window sills, built-in shelves and cabinets, lights, and any other permanent fixture in the home.
Remove any nails, hooks and similar hardware. Repair these holes with some spackle, then repaint the spot. This will give the wall and rest of the room a fresh look.
Repair any damaged wall fixtures like a clothing rack or lighting fixtures.
Wipe down all the doors, trim, baseboards and crown molding.
Clean all windows– both sides– with a streak-free glass cleaner.
After you're done with the initial groundwork, follow these cleaning checklists for specific rooms in your home.
Bathroom Cleaning Checklist
Use grout cleaner on tiled areas. Apply it early so it has time to work.
Clean out the exhaust fan.
Use special bathroom cleaner, usually with a bleaching agent, on the toilet. Clean all surfaces of the toilet.
Scrub the shower and tub with a soap scum fighting cleaner.
Clean the countertops, sinks, towel racks, lights and any storage areas.
Clean the mirror with a streak-free glass cleaner.
Kitchen Cleaning Checklist
If the refrigerator, oven, microwave or other appliances are staying, clean the interior and exterior of those. Take advantage of the oven's self-cleaning feature, if there is one.
Clean the floor below and wall behind the appliances.
Empty out cabinets, drawers and shelves, then dust the insides. Wipe down the front of cabinets.
Scrub the countertops, backsplash and sink.
Clean out the exhaust fan and garbage disposal.
Living Room, Office and Bedroom Cleaning Checklist
Dust light fixtures, ceiling fans and any built-ins. Then wipe down with an all-purpose cleaner.
If applicable, clean out the fireplace and chimney.
Dust window blinds and sills.
Clean out air vents and replace filters.
Outdoor Home Cleaning Checklist
Clean out the gutters of any leaves, twigs or build-up from rain and snow.
Sweep dirt, grass and other debris out of the walkways.
Mow the lawn, bag up fallen leaves, and do basic grooming of any other landscaping.
Replace burnt out bulbs in exterior lights.
Clean out dirty outdoor trash cans or recycling bins.
Moving Tips from Schumacher Cargo Logistics
Moving out of your old home and into a new, unfamiliar place can be a daunting and exhaustive process. Keep your head on straight and use our packing tips and moving guide to help ensure a smooth move. Heading to foreign lands? Our international moving guide will also keep you on the right path.
With 40 years of moving and shipping experience, the moving specialists at Schumacher Cargo Logistics know how to safely get your items from Point A to Point B. Whether it be within the same area code or halfway across the world, call our moving specialists today to get a free quote on our services.