Written by Damien Shields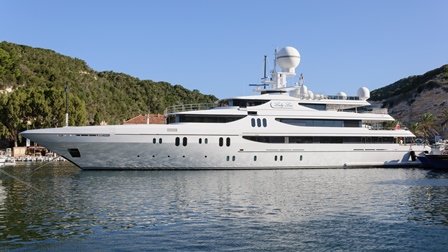 IMG Credit WikiCommons
With the New York boat show recently wrapped up and the Dubai Boat show on the way, boat enthusiasts are geared up for what the future of luxury boats holds. Let's see what we can expect in the world of luxury boating in 2014 and the coming years.
And if you need help shipping your new yacht to your home across overseas, our team can streamline the process. We've got the skills and the the experience to help get your investment to your new home safely and securely.
Top 5 Luxury Yachts To Keep an Eye On:
Xhibitionist:
Though a concept boat, you can't talk about exciting luxury yachts of the future (near or very far) without taking a look at this elegant giant. Designed by Sweden's Eduard Gray, this super-yacht is based around Gray's concept car design, the Xhibit G-Supercar. This 75-meter yacht can double as a car showroom, retail space, party lounge, floating 3-chopper helipad or concert stage. Even if this never makes it beyond concept stage, it's worth envying.
Victory:
For something a bit more realistic, check out the Victory from Italy with 7 decks, 6 pools, and internal docking for a tender up to 14 meters. Designed by Espen Oieno with an interior by Laura Sessa and Alberto Pinto, this is going to be one seriously luxurious yacht.
Privilege One:
Another Italian behemoth, this luxury yacht will be the first major motorized yacht from the Civitavecchia shipyard. On board this 126-meter yacht are 5 swimming pools, cinema, beauty parlor, 2 helipads, and a submarine that deploys from the yacht's hull! If that weren't enough, the yacht has separate owner and VIP suites.
Dream Symphony:
Looking to the future again, 2016 this time, comes the emergence of Turkey's Dream Symphony. This four-masted floating dream comes in at 141 meters long and promises to be one of the sleekest crafts on the water when it launches in 2016.
White Pearl:
The specifics on this super-yacht are a tightly kept secret. The details we do know about this German manufactured yacht are that it will be 147 meters long, feature three masts, and effectively be the largest sailing yacht in the known universe. Everything outside of that is a closely guarded secret.