Reliable International Removals Specialists
Schumacher has specialized in the international removals since 1977. With over 40 years of experience as an international removals company in the USA, you can be confident in the shipping of your personal items or furniture. Our safety records are among the highest in the industry and we have successfully relocated our clients all over the world. This experience gives our removal specialists the ability to offer a full international removal services to suit the needs of our clientele overseas. When it comes to overseas removals, SCL can't be beat.
Read our international removals guide below and start your shipment with Schumacher today!
Our Removal Services Include: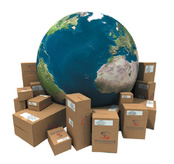 Business Relocations
Corporate Removals
Individual Removals
Excess Baggage Services
Trade Removal Services
Storage Facilities
International and Overseas Removals
As an international removalist, we move over 10,000 customers globally per year from the USA. We're always improving transit times, customer service, and acquiring a broader selection of destinations. With our relationships to the major shipping lines and our freight contracts, we're giving more options at better rates than our competitors. Moreover, we offer overseas removals to over 80 countries throughout Europe, Asia, Oceana, and the Middle East.
Every aspect of your overseas removal can be arranged. Whether by air, sea, or road to any location, we do overseas removals to anywhere in the world. We also customize the shipping and removal services for your specific needs. This includes door to door service, where we handle every step of your shipment.
How Much Do International Removals Cost?
The price for international removals depends on the particular details of the overall shipment. Some of the factors that affect the price are volume, origin, and destination. For instance international removals from LA will be different than from NY even with everything else the same. Because of this, our reps create custom quote for each shipment.
To get the quote for your international removals fill out our Online Quote Form
Excellence as an International Removal Company
Our Customers Come First
Besides being recognized by the trade as one of the leading specialists throughout the world for door-to-door removals, we have learned over the years that customer loyalty is extremely important. With this said, our expert staff is at your fingertips; ready to assist you with your shipping, moving and relocation needs for your international removals. In our case, we handle moves from beginning to end. For this reason our customers always know what is happening with their goods at any stage.
With our online tracking, dependable staff, and on-going safety record, you will be comfortable knowing that Schumacher will take care of all aspects of your relocation needs.
International Removalist Accreditations and Memberships
Through our experience as an international removalist, Schumacher has acquired many accreditations through moving memberships. Our current list includes FIDI/FAIM, IAM, IATA, FMC, FMCSA, and LACMA. Each of these accreditations show our excellence and adherence to the highest professional international removal standards. Read our accreditations page for more info on each of them.
More Overseas Removal Information
Fill out our Online Quote Form and begin your international removals service today.
For more info on any of the above, call in at US: 562-408-6677 or Toll-Free: 800-599-0190
SCL International Removals Reviews