What makes Australia unique?
While arranging your overseas relocation to Australia with your international movers, we found some interesting facts about Australia that we would like to share with you:
The Land Down Under- named so because it is the lowest continent in the world, with an average elevation of only 330 meters.
Australia is the smallest continent in the world.
The platypus is found only in Australia
Australia is the lowest continent
There are more sheep than people in Australia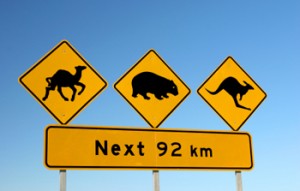 The Tasmanian devil is a real animal- a carnivorous marsupial, with jaws as strong as a crocodile's
Australia is the largest island in the world
The population density in Australia is one of the lowest in the world, with an average of 4 people per square kilometer
Australian women won the right to vote in 1902
Australia is the only country to host unique animals, not found anywhere else in the world: marsupials and emus
There is more snow in Australia than in Switzerland
Australia hosts the top six deadliest snakes in the world
The most poisonous spider in the world- the Sydney Funnel web spider- is found in Australia
Australia also has the most poisonous fish in the world- the stone fish
The Box jellyfish is considered the most poisonous marine creature in the world
Australia's summer/winter weather is the opposite of the United States, due to the fact that Australia is located in the Southern Hemisphere
There are approximately 200 Australian languages spoken, starting with the Aboriginal languages
So, before you move to Australia, we recommend that you become familiar with its surroundings and people.
For a free international moving quote or information on shipping a car to AU, contact the Schumacher Cargo Logistics team!