Relieve the stress of your move and enjoy your new place and the holidays!
If you are moving to another country around the holidays, then you probably have more stress to deal with than usual- packing, preparing for your move, the moving process and then celebrating the holidays. This is best accomplished with the help with of a professional international moving company.
How do you handle moving overseas during the holidays in the easiest manner possible?
Below are some guidelines to help you reduce the stress of the move so you enjoy your holiday.
Documentation
Make sure you have your visas and paperwork ready and up-to-date.
Finding the best international moving company
Have your packing, moving and travel arrangements planned in advance. Finding experienced, reputable international movers takes time, but it is worth it.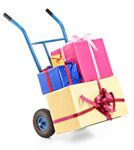 Find a professional
international moving company
with lots of experience.
Contact your mover to help you determine the exact needs of your move- the type of container, the availability, and to receive your quote. First, make sure the movers are available for the dates you want. Then, ask questions about the company's experience. Request your quote online – never by phone. Get at least 3 moving estimates so as to make a good comparison.
Moving Estimate
Movers need to consider the type and size of shipment so they can determine the cost of the move accurately, so they may need to come to your home- your international moving consultant should be able to help you determine all these details. Some items may need to follow special packing and moving procedures. One example would be a piano, which is a bulky item and will need to be crated.
Packing your items
Before you pack everything, keep a box of decorations handy and a few gifts for the special little people in your life. They won't care that you are moving home, they will still want goodies under the tree. Pack your furniture and personal items carefully, and create a moving checklist for all the items. While packing, you may want to listen to holiday music to keep you engaged in the spirit of holiday.
Have your new place ready-to-live in- making sure utilities, phone, heat, electricity are turned on in your new home.
Moving in
Once you arrive, unpack some of the items you need right away, but do not forget that it is a holiday, so save the rest of the packing for later and take your family out to celebrate your new locations and the holidays! Whether you are moving to Australia, Europe, or New Zealand, explore your new city, have a nice family dinner, and enjoy the festivity of holidays at your new location!
Contact us today for your free overseas moving estimate!