The scene is set: you're driving in your convertible with the top down. It's a beautiful summer evening with the sun setting behind your back. Your favorite song is playing on the radio, and you're singing along at the top of your lungs. Everything is warm, breezy and perfect. Nothing can ruin this moment.
Until your hair becomes a tangled mess and is no longer freely flowing. Suddenly you feel less like Pocahontas painting with all the colors of the wind

You don't want to put the top up, but you also don't want to live with a rat's nest on your head. What's a girl (or boy) to do?
Your locks deserve to flow in the wind, but you don't deserve to look like Medusa. A classic choice is the ponytail. It never goes out of style, and its simplicity makes it easy to dress up or down.
Another option, the top knot. You've already got your ponytail down, so why not step it up a notch? A favorite of lazy girls everywhere, and you can sneakily hide the fact that you haven't washed your hair since Tuesday… or was it Sunday? Anyway, twist your pony around the hair tie and secure it with another tie or bobby pins.
In case ponytails and top knots aren't your thing, braids are always an easy style. This is also a super simple look that you can take to the next level by doing a French, Dutch or milkmaid braid. Go on, be like Elsa and let it go.

Leaving extra hair ties and bobby pins in your car helps for when you're in a pinch.
Movie stars quickly figured out how to keep hair in place while nailing that classic convertible scene, as mentioned above. Silky scarves became an actress' best friend, and with the help of a bobby pin or two, you have the perfect top-down look. Aim for the look of Audrey Hepburn, as opposed to Damian from Mean Girls.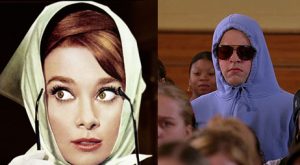 If the headscarf isn't your thing and your hair just won't cooperate with a style, there are other options out there. A baseball cap keeps hair close to the head all while repping your favorite team, or a large sunhat protects against the sun and ups the vacation vibe in your convertible. Get creative! Any way to get your hair up and out of the wind is a great solution. Just please, don't purchase a fake hair piece like the clip on man bun. There are children around.
Adventure is out there
Don't limit yourself to one set of roads. You and your convertible should be free to explore the rest of the world. Convertible enthusiasts have trusted us for over 40 years to safely and efficiently ship their vehicle overseas.