Everyone has their favorite Christmas traditions to feel the holiday spirit. In the United States, popular Christmas decorations include ornaments on the Christmas tree, strings of lights on the outside of homes, and stockings by the fireplace. All around the world, countries that celebrate Christmas have their own customs and traditions for decorating. From carving vegetables to pickle ornaments, these are some of the popular Christmas traditions around the world.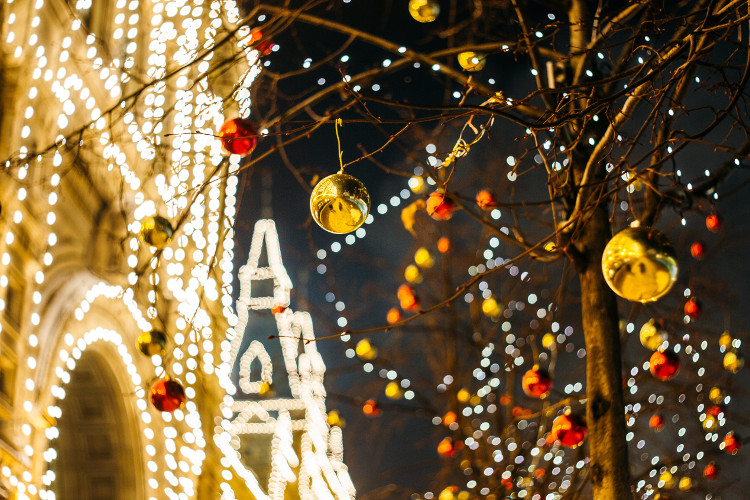 Different Christmas Decorations from Around the World
Cobwebbed Christmas Trees – Ukraine
An Eastern European folktale tells the story of a poor widow and her children who lived in a small hut with a dirt floor. One summer day, a pinecone fell onto the hut's floor and the children cared for it, hoping to grow a Christmas tree by winter. The tree grew in time, but the family could not afford any decorations for it. On Christmas morning, they found the tree covered in cobwebs. When they opened the windows, sunlight poured in and turned the webs into gold and silver. The widow and her family were full of joy and were never poor again.
While spiders and their webs associate with Halloween, Ukrainians decorate their Christmas trees with spider ornaments or webs. They believe that finding a spider or web in your tree is good luck, and it's said that the tradition of using tinsel on a tree stemmed from this folktale.
Night of the Radishes – Mexico
Forget carving pumpkins for Halloween. Carving radishes for Christmas is all the rage in the Mexican city of Oaxaca. Each year on December 23, the city hosts a large Christmas market where wood carvers would sell their creations. Farmers at the market noticed the popularity of the carvings and started making their own intricate figurines out of radishes. In 1897, the then-mayor officially declared the date as La Noche de Rábanos (Night of the Radishes), and the carvings feature nativity scenes, Mayan motifs and local wildlife.
Christmas Pickle – Germany
Ever see a pickle ornament at the store and wonder what a pickle's got to do with Christmas? It's supposedly a German tradition to hide a pickle in the Christmas tree and challenge children to find the pickle on Christmas Eve. The first child to find it wins an extra gift. However, hardly any native Germans know this tradition, let alone practice it.
It's likely that the Christmas Pickle really started with major retailers fabricating this "tradition" to get rid of leftover pickle ornaments after all the German-imported glass ornaments were picked over.
Mango Trees – India
One of the most recognized symbols of Christmas, the traditional Christmas tree, is an evergreen with ornaments, garlands, and lights. But for warmer countries where firs, spruces, and pines are hard to come by, they use some improvisation. In India, families who celebrate Christmas will decorate mango or banana trees. Many will bring mango leaves into their homes to decorate, too.
El Caganer – Spain
You've seen plenty of nativity scenes displaying the reason for the season, but have you ever seen a nativity figurine taking a dump? For real, this is a real Christmas tradition in Catalonia. Named El Caganer, which translates to "The Pooper," this character is seen within the same display that hosts baby Jesus in a manger.
Though historians don't know when exactly he came about, there are many theories for El Caganer's existence. Some believe El Caganer represents fertility and fortune for the new year. Others say he represents the mischief within all of us, bringing balance to the otherwise peaceful scene. The traditional El Caganer design is a peasant man in a red cap, but many modern figurines resemble politicians, athletes, actors and other notable people.
Decorated Ships – Greece
Known for its deep blue seas, Greece prides itself in its history of seafaring adventures. When sailors would return home, families celebrated by decorating their ships. With the introduction of Christmas, especially the lights and decorations, the Greeks infused this custom, known as Karavakia, as a holiday tradition. Modern Christmas boats can be seen as huge displays in the center of main cities, but families will also decorate smaller boats to display as centerpieces at home.
Julekurver Baskets – Norway
In Norway, small paper baskets are hung around the home and filled with nuts and candy throughout the holiday season. These julekurver baskets are usually woven into heart shapes. Many children learn how to make these crafts to hang on the tree.
Gävle Goat – Sweden
Arson isn't traditionally considered as a Christmas tradition. However in the city of Gävle, Sweden, it happens more often than you'd think. On the first Sunday of Christian Advent, a giant straw goat stands 43 feet in the middle of the city. But soon after the first goat arrived in 1966, people found mysteriously burned to the ground. And every year since, no matter how hard city officials and police try to protect the goat, Gävlebocken is destroyed somehow, usually by arson.
More Reading
Want to live in another country that uses different Christmas decorations? Contact Schumacher Cargo Logistics today to get a free quote for international car and household goods shipping.