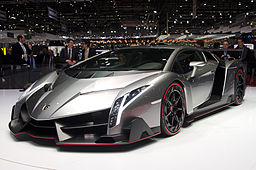 Img from WikiCommons
Anyone who's ever felt the thrill of getting behind the wheel and pushing the pedal to the floor has dreamed about doing so in some of the fastest cars ever made. Unfortunately, those cars are also some of the most expensive cars ever made. And while you might not be able to afford them, it doesn't mean you can't stock them in your dream garage. Here are a few that should absolutely make an appearance.
And if you've already got some of the pieces for your dream garage, Schumacher Cargo can help you transport them overseas, either to help you test out your prized ride on the Autobahn or take a scenic cruise through Hong Kong. Give us a call today!
The 5 Most Expensive Cars To Dream About:
Lamborghini Veneno Roadster ($4.5 million dollars):
In your dream garage this car would likely go on a separate floating riser spinning in the middle of the garage with angelic lights and choirs shining down on it. It gets 750 horsepower out of a 6.5 liter, 12-cylinder engine which pushes this beast to a max 221 miles per hour. What's more? This baby is now available as a convertible roadster!
W Motors Lykan Hypersport ($3.4 million dollars):
Talk about dream garage, if this car were in your real garage, you'd have to pinch yourself every time you see it just to make sure you're awake. The Hypersort, out of Lebanon, looks like something crossed between a dream and a futuristic, police nightmare: like if Bruce Wayne became Robocop. It's so cool, it's scary. And that's not even considering what else comes with this beast: diamond covered LED headlights, holographic speed display, and a turbocharged V6 reportedly capable of reaching 244 miles per hour.
Bugatti Veyron 16.4 ($2.5 million and up):
This bad boy stocks more horsepower and a bigger engine than the Veneno and for a lower price too, which just might put this supercar in a special place in your heart. 1,200 horsepower in a 16-cylinder 8-liter engine, the Veyron 16.4 is capable of reaching a max speed of 255 miles per hour. That's about the distance between Los Angeles and Los Vegas: meaning you could potentially come off the beach at noon and be playing craps around 1 provided you don't run out of gas or straight road, and somehow avoid jail.
Aston Martin One-77 ($1.8 million dollars):
How could you not want for your dream garage a higher trim level Aston Martin than the one James Bond drove? While this one doesn't have any hidden machine guns (that we know of), it does boast 750 horsepower and over 500-pounds of torque out of a 7.3 liter V12 engine.
Hennessey Venom GT ($1.2 million dollars):
A twin-turbo V8 and 1,244 horsepower make the Hennessey Venom GT just as deadly as its looks and namesake. This gnarly speedster broke a world record going from 0-186 mph (300 kph) in just 13.63 seconds. Nuff said!