Auto – Moto – Passion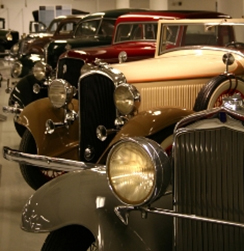 If you're like all of us here at Schumacher, then you share a passion for classic cars and motor vehicles.
Whether you are an owner, collector or avid enthusiast, this year's 39th annual Retromobile event in Paris, France is a great way to start 2014.
Schumacher is very happy to be an exhibitor this year. We will be located at Stand 1 E 40 and would love to have you come by and learn how we do business.
Retromobile is the first international event of the year devoted to classic automobiles.
For the past 39 years, this show has brought together vendors, carmakers and other industry enthusiasts from all over the globe.
Thanks to its continued success, each year gets bigger and better and this year's expo has more of everything: exhibitors, clubs, space, vehicles, sellers, vendors, etc.
Event Details
The event will take place at the Porte de Versailles Exhibition Centre in Paris from February 5th – 9th and features more than 44,000 sq. ft. of exhibition space, 500 cars and over 400 exhibitors.
For only €14, you'll discover everything from car art galleries, a variety of industry vendors, international clubs, bodywork restorers and much more.
At the center of the event is the auction sale which has been organized by Artcurial Motorcars for the last three years and will feature sales on both Feb 7th and 8th.
In 2013, the auction sold 96% of all lots for sale and reached total sales of more than 14.5 million euros.
With all of its attractions and continual growth, the expo is sure to be exciting and we welcome all of you to attend. So come join us in Paris at this year's international Retro Mobile event!

For more information on the event and to find out how you can purchase a ticket and save money on transportation, visit the Retromobile website.
Need a Car Shipped? Hire the Experts at Schumacher Cargo.
Schumacher Cargo specializes in international car shipping. We ship classic cars from the U.S. to all over the world, including Europe (France, England, Holland/Netherlands and more), Asia, Australia, and many other parts of the world.
We love cars as much as you do which is why we ensure your effects arrive in pristine condition. Contact us for a free quote: 800-599-0190.
Written by Damien Shields