Shipping your goods overseas by air or by ocean- which one is best for you?
Air freight and ocean freight international shipping are two of the most commonly used moving services by international movers.
Moving goods internationally demands tremendous knowledge and experience. A different set of rules, regulations and implemented practices makes transferring of assets through air or sea even more challenging.

Whether you are a business owner or an individual on the verge of your next international move there is always a bottom line or a budget to be considered.
Add to it, the time it takes to move things is another factor. With many other nuances it does not hurt to compare both – the ocean freight versus the air freight methods and find out which works best.
Air Freight versus Ocean Freight Differences
| | | |
| --- | --- | --- |
| Factors | | Ocean Freight |
| Reliability, safety of goods | More reliable, less succession time | Less reliable, probability of goods damage is higher |
| Cost | More expensive | Less costly |
| Charges for goods | By weight | By volume |
| Time | Faster | Slower |
| Destinations | Lesser stops | Might make more stops in a journey |
| Logistics | Specific logistics and rules | Specific logistics and paperwork |
| Tracking | Provided | Provided |
The above table gives a brief overview about how different factors pan out for both methods of shipping. Deciding which one is better than the other depends a whole lot on your personal requirements.
If you need household goods delivered fast one might opt for an air transfer. If you are tight on your budget ocean freight will be your natural choice.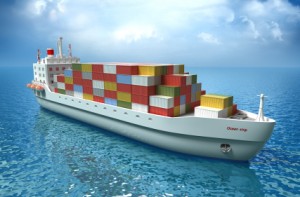 Port Selection
Another important aspect to be considered is the accessibility of the departure port and the destination port.
Air freight shipments are delivered to the nearest International airport which tends to be more inland and easily reachable. Shipping by ocean means getting your cargo to a loading warehouse close to the port of origin.
Schumacher Cargo has 5 warehouses located at the 5 main ports in the US.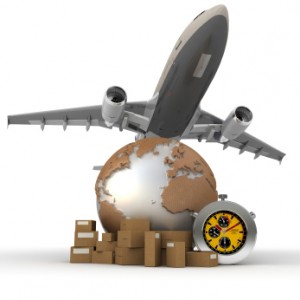 Risk
History has shown that both types of freight services can be subject to risk. But for the tens of thousands of shipments we handle annually, the percentage is very low.
While sea lanes can be exposed to possible pirate threat, it is very rare. And airplanes are always exposed to possible engine failure or the chance of emergency landing, but the rate for this is so low, that air freight is one of the safest ways to transport cargo globally.
When you choose your international service provider, ask about insurance coverage for either of these options, as it is peace of mind for a small additional charge on top of your freight charges.
International shipping also should take into consideration the mass of the asset that is being moved. If the item which you are trying to transfer is heavy, bulky and prone to damages, you might be better off using air freight.
Shipping through ocean routes might cause you delays and the possibility of damaging your goods since they tend to wait at ports for transfer. Ocean freights are also exposed to climatic conditions. Water currents and harsh weather might cause unforeseen delays.
Choosing the right vendor is imperative in order to procure the best economical quote for your preferred method of shipping. Schumacher Cargo with its expert team brings a great deal of shipping and overseas moving experience.
So what are you waiting for? Give us a call at 800-599-0190 or visit our website to request a free air freight or ocean freight quote.