How to fill out customs forms for your overseas shipping
The customs form is an official document that you will need to fill out and include with any package going outside the country. This includes packages sent via USPS, UPS, FedEx, and independent freight carriers. For the inexperienced, it can seem a bit confusing—there is a lot to think about when you go to fill it out! However, these are very important documents and as such are developed to be easy enough that anyone can handle them.

While the exact custom form will vary depending on custom procedures of the international carrier you are shipping with and the country to which you are shipping the vehicle, package or goods, these basic tips will help make certain you fill it out properly and get your items on their way.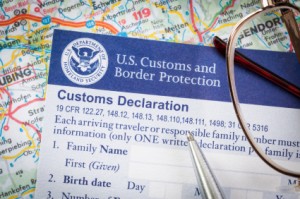 Customs Form Checklist
Only mark a package as a "gift" if it truly is a gift. Misrepresenting the contents of your shipment by calling it a gift if it is actually merchandise is against the law and is not worth the risk.
Remember that the recipient may have to pay custom fees on the value of the item. Because of this, you want to make certain you mark everything at the correct value. Claim too much and the recipient will have to pay more than they are supposed to pay.
When filling out the form, you will likely have to give a description of the item. In most cases, you do not have to go into detail. Calling a book a book is fine—you do not have to list the title and author.
Packages with low value are normally cleared more easily than those that are expensive. If you are sending something with a very high value, make it simple for the agent to unpack and repack the package.
Make sure you do not leave off any required information off the customs forms.
Some Items on a Customs Form Frequently Required Include:
Name and address of the shipper or seller.
Description of the item or items.
A listing of quantity of each item in the package.
Purchase prices of each item in the package.
The weight of the package. (The shipping company may be able to help with this.)
Country of origin of the product. This may not be the country from which it is shipped- it is the country where the product was originally made.
As you can see, a customs form is not as complex as you may have thought. Spend some time looking over the form before you have to use it, and you will not be afraid of shipping with a customs form any longer.