Sound advice to help you find the right freight forwarding company
The new home is bought, the old one is sold and you're ready to make your move. The only issue is: what cargo shipping company should you use? You heard heard of horror stories of friends not receiving their belongings on time and ships delivering too early or too late. With everything considered, you need to make an educated decision and place your trust in a cargo shipping company that will be reliable, trustworthy, and reasonably priced. Here is a top ten of tips to take into consideration when choosing a cargo shipping company to move your goods overseas.

From asking about tracking tools, their overall experience with International shipping and moving, to considering the overall price, you're sure to find a company that will work for you and your overall move.
Tip # 1: Registration and Licensing
An important factor is to make sure your cargo shipping company is fully compliant within the moving industry and you can ask about their registration and licensing. A shipping company that is professional and reputable will be able to provide their NVOCC number with the Department of Maritime commission.
If it is a domestic shipping company functioning within the United States, the company must be registered with the states in which it delivers.
International moving companies may be associated with AMSA, FIDI or RIM which are some of the reputable associations that high end movers want to be affiliated with and tend to have a very good level of customer service.
Tip # 2:  Cargo Loading Services
There are a lot of different cargo loading services that each company offers. When searching for the best company to move your items, ask about the loading services offered. Slideshare.com offers many documents about cargo moving and lists three main types of loading services.
The first is known as warehouse loading. With this option the shipping company will pack and load your items into a container after you have packed them yourself and deliver them to the mover's warehouse.
The second type of loading service is a live load. A container is dropped to you at your home or business address and you have a specific period of time, usually a few hours for a live load to pack all your belongings yourself before the container is sealed and returned to the port for loading on the vessel for sailing. This service is time bound and you aren't usually given much time to pack.
The last loading option is a "drop and pull service" which can be more expensive but less stressful. The container is dropped off at your home and you are given a few days to load and pack your items. The shipping company will come and pick up your container at a later date which you agree upon when booking. 
Tip # 3: Variety of Container Size and Capacity
Depending on what you really want to ship and what you can leave behind will determine what size container will be needed for your mover? Most moving companies offer the usual container sizes of a 20' or a 40' shipping container. Household goods and vehicles are usually shipped this way. If you have items that are perishable you may need a temperature controlled container. These are known as 'reefers' in the industry.
Items such as rare or expensive paintings, rare furniture or antique pictures that may be affected by heat, you can invest in a reefer container which is refrigerated and will keep everything in perfect condition. But most personal effects moves, can be facilitated by using standard containers.
Tip # 4:  Cargo Tracking Tools
With technological advances, cargo tracking tools are available to customers readily. Whether you're given an online code to see where your ship is in transit or you receive emails updating you on your item's travels, you'll want to ask about this tracking option. Some cargo shipping companies may charge an additional fee for this service while others include it in the overall price. Ask lots of questions about the company's form of tracking.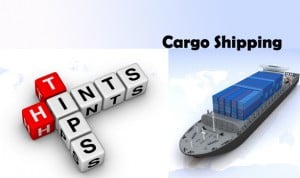 Tip # 5: The Overall Price
Some cargo shipping companies may offer one price for ocean freight and then list additional charges thereafter and this may seem that additional fees are being added on. Always compare the overall price of the items shipped and ask about fees such as fuel, insurance, tracking etc. Hidden fees should be made available to you and you can ask for a breakdown of the overall price before you choose to use the company's services. Make sure to check out our recommendations when comparing overseas shipping quotes.
Tip # 6:  Industrial Standards
There are industrial standards to be met when shipping items overseas. You want to make sure that your company adheres to laws and regulations stated by the government in which you are having your goods received. Its important that the freight forwarder you choose to pack and wrap and ship, has a network of professional agents around the globe who can handle the container when it arrives at its final destination. They will be the ones who will unpack and deliver your goods to you new home. That's a very important part of the process.
Tip # 7:  Safety Records
Your cargo will go with one of the major team ship lines, and for the most part, they are all long standing companies within the industry and have reliable vessels and operating procedures.
Ask your international moving company who they will use for shipping your goods. Have any of their ships encountered safety issues You can go to a company' s website and see their safety certifications as well as their values when it comes to moving your items.
Tip # 8: Insurance
Although most shipping companies offer insurance on your goods from the beginning to the end of the voyage, it's vital to ask this question. If there was something to go wrong with the ship, you need to know that your items are guaranteed insured. Usually the main shipping companies cover the minimum insurance of $0.60 per pound. If you would like more insurance on your goods you can purchase supplemental insurance from companies such as Cargo Cover and P.A.F. Shipping Insurance. You can look around for the best insurance rates for your items and compare the companies. Your shipping cargo company may also suggest an insurance company it partners with.
Tip # 9: Holding Facilities Provided
What if your goods arrive earlier than planned or later? Where will they end up and what is the charge? Asking this question can save you a lot of money and hassle. It's important to know that if your container arrives at the location earlier if you will have to pay for it to be held or if it's worked into the overall price of the service. If there is a chance you may be late picking up your items also ask what the fee is and where you will pick them up at. If your items need to be refrigerated, ask if the holding facilities are capable to facilitate this. If your goods are heat susceptible ask about air conditioning.
Tip # 10:  Discounts
Last but not least, look for discounts when comparing cargo shipping companies. There are always promotions going on and sometimes it only takes asking for a deal to get one. Cargo shipping is a business and there's always room for some negotiation. If there is a specific company you would like to go with, ask for a matching deal. Comparing is a great consumer power and you are bound to end up paying less if you simply ask. You may also want to try different dates if you are flexible. Different weeks of travel may be lower in cost.
For additional questions regarding moving your cargo, see our additional resources on our blog or contact us today!