Travel is still one of the great romantic notions of the world. Pulling up stake and experiencing a whole new culture and lifestyle. We at Schumacher Cargo are proud to take part in the process, and one of the top places is Germany. Here are the 10 reasons to pick up and relocate to Germany right this minute!
Schumacher Cargo can help you make the move; we ship everything from household goods to bikes, cars and yachts.
1. The Food
The sausage capitol of the world, Germany is loaded with rich, decadent foods. From encased meats and pastries to authentic schnitzel, Germany is a place for foodies and the champions of taste buds.
2. The Beer
The German Beer Purity Laws of 1516 are still used today, ensuring that a) German beer conforms to traditional methods, and b) it's delicious. While you won't find some of the wild IPAs or experimental brews gaining popularity in North America, you will find some of the most delicious and classic beers in the world.
3. Economy
Germany has one of the best economies in Europe–and the whole world, for that matter. A good economy means a stable country and a stable country means less poverty, violence and danger.
4. Low Unemployment
This goes hand-in-hand with the economy. Germany takes many steps to assure unemployment is low, including offering many apprenticeships for the youth which can start them on a career path.
5. Worker's Protection
There's a lot of incentive to work in Germany as worker's have fantastic rights, working lower hours than the US and UK, experiencing less lay-offs, and having fantastic unemployment wages if a lay off occurs.
6. Travel options
As Germany is located in the center of Europe, traveling to other regions of the continent becomes much easier: Go south and you're in Switzerland or Italy; North and you're in Copenhagen; Southeast Greece and Turkey; Northwest, UK and Ireland.
7. The Sites
Of course, you don't even have to leave Germany to find amazing places to visit. Rich in history, geography, and architecture, Germany has a wide abundance of places to visit and experience.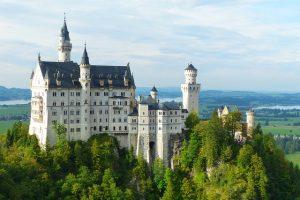 8. Need for Speed
Germany is home to the Autobahn, the most famous speed-limitless road in the world. It's filled with many chances for car and bike enthusiasts to put their vehicles to the limit. And it doesn't hurt that they also make some of the best cars and bikes to explore these roadways with.
9. Sundays
In Germany it is actually illegal to open shop on Sundays–other than the few select Sunday's allowed by the government. This means everyone is entitled to a day of rest, relaxation or fun.
10. Public Transportation
Getting around in Germany is both convenient and relatively cheap when using public transportation. Their rail systems are extensive, comfortable, fast and inexpensive when compared to many other major countries in Asia, Europe or the US.
More Resources
After reading our reasons why you should go to Germany, check out our other articles on the country.