Los Angeles, CA International Shipping Company
Los Angeles Corporate Headquarter Office
Schumacher Cargo Logistics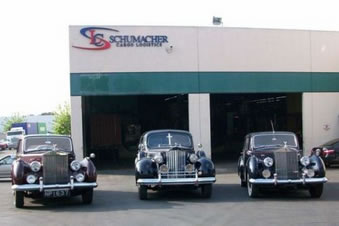 Where We are Located in Los Angeles
Our corporate office is located just 20 minutes from downtown Los Angeles, 10 minutes from LAX and within 30 minutes of the two largest international ports in Southern California.
This enables quick transport to and from the ports as well as to the airport for those using our international air freight shipping services.
Our International Shipping Services from Los Angeles
We've spent the last 37 years dedicating ourselves to providing first class services that cater to a range of international shipping needs not just for international moves from Los Angeles but the rest of southern California as well.
We provide shipping and relocation services for almost any type of international cargo including household goods, vehicles, watercraft, motorcycles, oversized equipment and our team is professionally trained to handle your customs requirements and get you moving.
Overview of Services:
Pickup Locally, Statewide and Nationally
Loading Services
U.S. Customs Clearance
Enclosed Storage Prior to Departure
Because we are conveniently located between the ports of Los Angeles and Long Beach in Southern California, this offers you more options and accessibility to two of the biggest international shipping ports in the country.
Overseas Moving and Shipping Service Departments
Before we can quote for your move, we need all the information and details listed on our quote form. Regardless of the type of items, it only takes a few minutes to fill out.
If you would prefer to call one of our professional sales people to talk about your shipping needs, then please call 800-599-0190.
Ask for one of our following departments:
Auto Export
Household Goods Export
Motorcycle International Shipping
Boat and Yacht Shipping
Air Freight Cargo Shipping Services
Household Goods Import
Auto Import
Hours of operation: Mon-Fri 7:00 a.m. to 5:00 p.m. daily
Warehouse receiving times: 8:00 a.m.- 4.30 p.m. daily
Consult your ship card or contact us for a FREE Quote and to get more information, including schedules and ports.
Written by Damien Shields