Moving to Sweden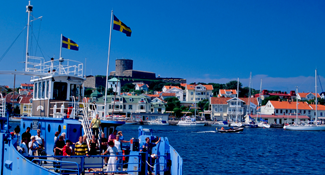 Moving your Household Goods and Personal Effects to Sweden
To start, you will have to pay customs duties when shipping goods overseas to Sweden that are classified as new. Used items and household goods will be duty free if they have been used for over a year and you have owned them for that length of time.
Passport and a copy
Proof of residency in Sweden
Bill of Lading
Detailed Inventory List
Customs form TV 740.41
We can help you with customs for your belongings as well as for car shipments to Sweden.
Useful Individual Swedish Income Tax:
The following informations is important for anyone moving to Sweden. Like many other countries, this information may change so you must keep up to date after settling down in your new home.
Persons with unlimited tax liability
You can deduct a basic allowance between SEK 13,100 and SEK 34,300 ($2,015 and $5,276) and on the taxable income you've earned if and only if you have had unlimited tax liability status for the whole year.
After the standard deductions, there are a few additional deductions regarding other taxes. They are:
Municipal tax in your municipality of residence (approx. 29-34%)
Church tax and burial charges (approx. 1-2%)
Sweden also has state wide progressive income tax. If you make more than SEK 426,300 ($65,580) individuals are taxed 20% on the income that exceeds this amount. If you earn more than SEK 604,700 ($93,025) you can expect to pay 5% on any income exceeding this amount.
Interesting Facts for Those Moving to Sweden
You better like coffee because Sweden ranks 2nd in world in consumption per person
"Take a number please" Swede's love waiting patiently in line with a number in hand
You can very easily live in Sweden all your life and only speak English
Be prepared for July shutdown! Shops, restaurants, services are gone on Holiday
Sweden has a population of about 9.5 Million
VAT rate for 2013 is 25%
For further information on any of above, call and discuss your move with one of our Moving Specialists at: 800 599-0190 // 562 408-6677
Written by Damien Shields