Moving to Hong Kong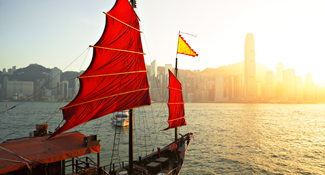 Relocating to Hong Kong and Obtaining Residency
For individuals, there is a temporary time frame of up to 6 months where you can stay in Hong Kong without a visa. Considering that you're going to be moving your belongings to Hong Kong you'll most likely be staying longer so make sure to start the application process earlier. There are a few different types of visas that will legally enable you to stay in Hong Kong. They are:
Employment Visa
Investment Visa(If you want to start up your own business)
Dependant Visa
Permanent Residency(Only get this after 7 years)
Companies on the other hand are resident if incorporated in Hong Kong or if the management is located there.
4 Major Hong Kong Cities we ship Household Goods to:
| | | |
| --- | --- | --- |
| Hong Kong City | Yung Shue Wan | Kowloon |
| Sok Kwu Wan | | |
Income Tax Overview:
Hong Kong's individual income tax rates are progressive and range from 2% to 17% and their taxes are also levied based on the territory you are located in. For both companies and individuals, any income derived outside the state is tax exempt.
Personal annual tax rates 2012 (HKD)
| | |
| --- | --- |
| Taxable Income | Rate of tax |
| 1-40,000 | 2% |
| 40,001-80,000 | 7% |
| 8O,001-120,000 | 12% |
| over 120,000 | 17% |
Capital Gains: There is no capital gain tax in Hong Kong for companies or individuals and additionally, dividend income and interest income received from deposits is tax exempt.
6 Interesting Facts Regarding Your Move to Hong Kong
Hong Kong is a special administration region of China
The state has a land mass of only 30km(still thinking of shipping your car to Hong Kong?)
Hong Kong has more Rolls Royce's per person than any city in the world
Foreign persons wishing to reside in Hong Kong must have a valid entry VISA
Population of about 7 Million
Macau borders Hong Kong and is known as 'The Vegas of the East'!
Pet Transportation to Hong Kong
Pet local permit fees are HK$432 and HK$102 for every additional animal
Import permits from HK government are only valid for up to 6 months
For further information on any of above, call and discuss your move with one of our Moving Specialists at: 800 599-0190 // 562 408-6677
Written by Damien Shields