Moving to Switzerland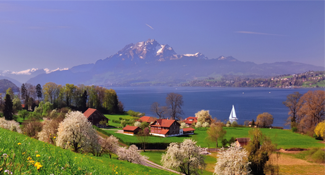 Move Your Household Goods and Personal Effects With Schumacher.
When Moving to Switzerland
You are never more than 10 Miles from any lake
2012 - 60% of Switzerland's electricity is produced by hydroelectric power
There is a statue of Freddy Mercury on Lake Geneva shore
There are more banks than dentists.
You must own or be close to a Bomb Shelter, this is the law
Population of about 8 Million
AT Rate for 2013 is 8%
Useful Tax Information for Switzerland:
Individuals with residency are subject to personal income and net wealth taxes. Partnerships (and similar groups of persons without legal personality) have to be transparent for tax purposes so that the partners can be individually taxed.
Non-residents deriving income from certain Swiss sources (see below) may be subject to certain withholding taxes.
Taxes are paid and handled by two different divisions in Switzerland. There is a federal income tax and then there are taxes levied by local municipalities and the individual cantons. However, there is no federal net wealth tax as the cantonal and municipal income and net wealth taxation is taken care of by the separate cantons themselves. It's a lot to process but make sure you are aware of the two entities and their applicable rates when moving to your specific canton in Switzerland.
3 Tips on Pet Transportation Services to Switzerland
Inspection are usually carried out by Swiss Customs at time of entry
Pets brought into Switzerland must have an Animal Identity Service (ANIS) code
Make sure your pet passport is up to date for all EU countries you intend to visit also
For further information on any of above, call and discuss your move with one of our Moving Specialists at: 800 599-0190 // 562 408-6677
Written by Martyn Cohen